7 Chakra Mixed Crystal Gemstone Tree - EXTRA Large - Brown Base - Crystal Healing
---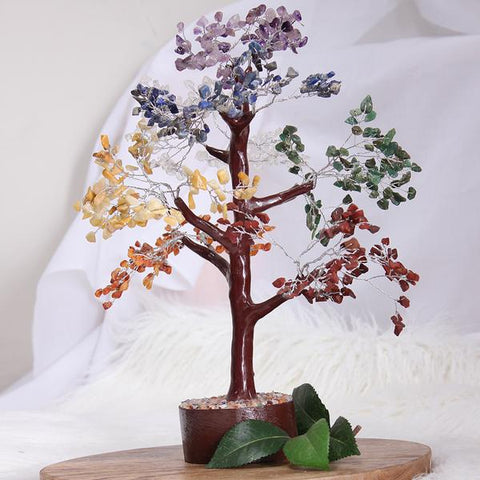 or make 4 interest-free payments of $25.50 AUD fortnightly with
More info
Crystal Trees 
are a beautiful way to bring the crystal healing energy into your home. Trees symbolise stability, growth and abundance. Surround yourself with their healing energy by placing a crystal tree in your sacred space, the living space of your home or your work environment. Each crystal has a different energy and will focus on different areas of your well-being. Surround yourself with the good vibes of crystals and let their positive energy benefit your overall well-being.
7 Chakra Mixed Crystal Gemstone Tree - approx 35cm High - Brown Wooden Base
This stunning crystal tree is made from mixed genuine crystals, silver colour wire on a brown trunk and sits on a wooden base.


This stunning crystal tree is made from genuine natural gemstones. Stones used are Amethyst, Lapis Lazuli, Clear Quartz, Green Aventurine, Yellow Jasper, Carnelian and Red Jasper. These crystals are connected to 7 chakras of the body. Each crystal is individually hand wired. Made with genuine gemstones. 

Working together these crystals can repel negative energies and offer a balanced and stabilising vibration to bring a calming, nurturing and cleansing feeling to your space.