Black Obsidian Crystal Egg 50mm - Protection, Grounding and Healing - Crystal Healing - Easter Gift Idea
---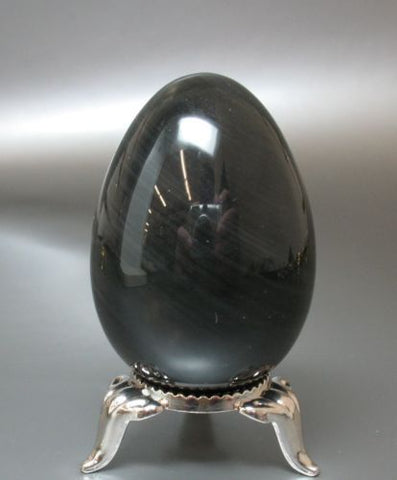 or make 4 interest-free payments of $11.25 AUD fortnightly with
More info
PROTECTION
provides support during change, repels negative thoughts. Helps fight the effects of depression. 


Black Obsidian Crystal Healing Egg 50mm
presented in Velvet Pouch NO Stand
More information on Black Obsidian


♥ Purification
♥ Transformation
♥ Fulfilment
♥ Metamorphoses
♥ Manifestation
♥ Practicality
♥ Psychic ability


Obsidian is a volcanic glass.

Affirmation: I gently release negative energy within and around me.


Chakras
- Root  
Zodiac
- Sagittarius, Scorpio
Planet
– Jupiter
Element
– Earth, Fire
Typical colours -
Black, silvery or brown
Black Obsidian is truth-enhancing.  A strongly protective stone, it forms a shield against negativity.  It blocks psychic attack and absorbs negative energies from the environment.  Obsidian draws out mental stress and tension.  It stimulates growth on all levels, urging exploration of the unknown and opening new horizons.  Brings clarity to the mind and clears confusion.  Helps you to know who you truly are.  Obsidian dissolves emotional blockages and ancient traumas.  Promotes qualities of compassion and strength.
Black Obsidian aids the digestion and detoxifies.  It reduces arthritis pain, joint problems and cramps.  Warms the extremities.
In addition to the generic healing properties of Black Obsidian, specific colours and types have additional attributes:

Black Obsidian is a very powerful and creative stone.  It increases self-control.  It forces facing up to one's true self.  Releases imbalances and negative energies.  Black Obsidian is protective and provides support during change.  It repels negativity and disperses unloving thoughts. 


Does not include stand
We endeavour to describe and size our products as accurately as we can, but
Crystals and Gemstones are natural minerals each with their own beautiful and unique patterns and formations; therefore no two crystals or gemstones are ever the same and each piece we sell is unique in composition.


Please be note

,
as natural objects their appearances and size can vary from the images shown on our website and they may contain tiny fissures and pits this serves only to improve their natural beauty.