Amazonite Double Point Necklace - Free Chain - Finance • Expression • Balance • Inspiration - Crystal Healing
---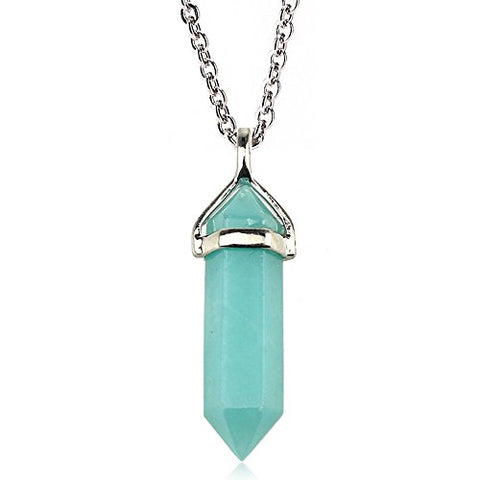 or make 4 interest-free payments of $6.75 AUD fortnightly with
More info
FINANCE aids prosperity and good practice in business: the stone of new opportunities.

The Amazon Stone


Amazonite aligns the Physical and Etheric body
AMAZONITE is a legendary stone, believed and highly likely that this was the third stone in the breastplate of Moses. The way the Egyptians used it makes us aware of its importance in ancient times. It was a prominent stone for making amulets in ancient times and the Assyrians connected it with their God Belus.
Balances the Chakras and assist in healing emotional trauma and physical ailments
AMAZONITE  has a strong vibration with active metaphysical properties. It embraces the Throat Chakra, to enhance communication, and the Higher Heart/Thymus Chakra, to help one stay calm and balanced.  It inspires speaking with confidence and self-assurance and produces hope in the success of the process.
AMAZONITE helps to escape the illusion of separation from the Divine
Point Necklace Dimensions

Point 30mm
Total Height 40mm
Width approx 10mm
Chain 50cm (Stainless Steel)
Colour Aqua Blue/Green
Can also be used as a Pendulum
Presented in Black Velvet Pouch
♥  
Confidence
♥  
Courage
♥  
Tranquillity
♥  
Mutual Understanding
♥  
Communication
♥  
Manifestation
♥  
Honesty
♥  
Emotional Healing
♥  
Non-Verbal Expression
♥  
Luck
♥  
Prosperity (Business)
♥  
Leadership
♥  
Individuality
♥  
Truth
♥  
Harmony
♥  
Peace
Chakras - Throat and Heart
Zodiac - Virgo
Birthstone: 


Crystals and Gemstones are unique and each beautiful in pattern, please be aware that our images are for information purposes only as natural product their appearance and colour may vary from the images shown on the website