Amethyst and Lava Gemstone Aromatherapy Essential Oil Diffuser Bracelet - February Birthstone
---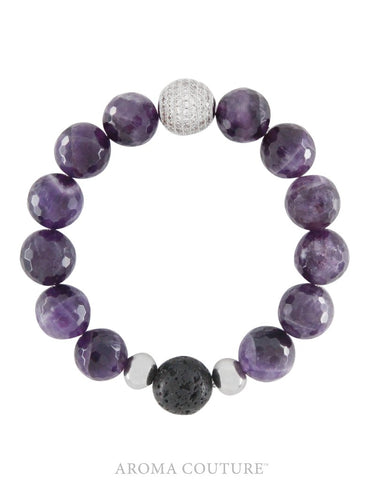 or make 4 interest-free payments of $10.00 AUD fortnightly with
More info

Quality handmade Amethyst and Lava Gemstone Essential Oil Diffuser Bracelet


Lava beads begin their journey to your jewellery as molten rock beneath an active volcano. At over 1,000 degrees Celsius the molten rock begins to melt and finally erupts out of the volcano. Once the lava meets the cooler air it solidifies and becomes this beautiful piece of jewellery. L
Amethyst
 - 
marked as the stone for the month of February. 
Amethyst
 is the stone of Saint 
Valentine
. It is the stone for faithful lovers because as legend goes, St. 
Valentine
 was known to wear a ring with an 
Amethyst
 which also had the engraving of Cupid on it.
Lava Stone
-  Strength | Courage | Calming | Grounding
DETAILS


❉ 
Type: Lava Bracelet - Add a few drops of oil directly to the porous lava stone and aroma lasts for days!
❉ 
Diffusing Method: Lava Stone 10 mm
❉ 
Bracelet Stone: Faceted Amethyst 10 mm
❉ 
Fits Wrist Size:  M/L : 7.5"
❉ 
Stretch: Moderate
❉ Presented in a Velvet Pouch
❉ 
Add a few drops of your favourite essential oil to the porous lava rock on the bracelet.
❉ 
The aroma will stay on the stones for 1-2 days.
❉ 
You may add more aroma anytime you want for topical and aromatic benefits
Crystals and Gemstones are unique and each beautiful in pattern, please be aware that our images are for information purposes only, as a natural product their appearance and colour may vary from the images shown on our website and backed by our lifetime guarantee.