Amethyst Crystal Gemstone Tree - MEDIUM - Brown Base - Protection, Purification and Spirituality - Valentines Day Gift Idea
---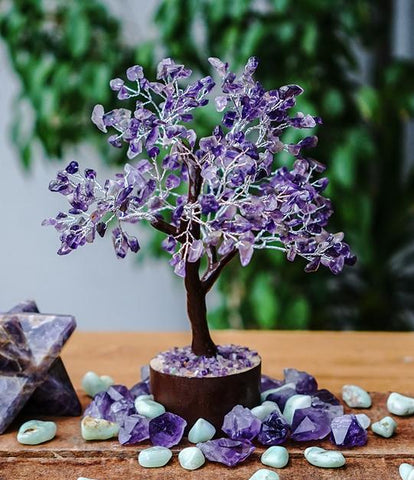 or make 4 interest-free payments of $11.00 AUD fortnightly with
More info
Crystal Trees are a beautiful way to bring the crystal healing energy into your home. Trees symbolise stability, growth and abundance. Surround yourself with their healing energy by placing a crystal tree in your sacred space, the living space of your home or your work environment. Each crystal has a different energy and will focus on different areas of your well-being. Surround yourself with the good vibes of crystals and let their positive energy benefit your overall well-being. 

This stunning crystal tree is made from genuine amethyst crystals, silver colour wire on a brown trunk and sits on a hand polished wooden base.

The Amethyst is the stone of St. Valentine, who is said to have always worn it. During the Middle Ages in the days of romance and chivalry, if an amethyst was presented by a lady to her knight, or a bride to her husband in the shape of a heart set in silver, it was said to confer the greatest possible earthly happiness on the pair who would be blessed with good fortune for the remainder of their lives. 

Amethyst Gemstone Tree - approx 16 - 20 cm in Height with branches extended - Brown Base with 195 individually wired crystals 
 (most crystal trees are graded on the number of hand wired crystals on then 
not on their height
 please bare this in mind when ordering)
More information on Amethyst


♥ Increases nobility
♥ Spiritual awareness
♥ Psychic abilities
♥ Inner peace and healing
♥ Healing of body, mind & soul
♥ Positive transformation
♥ Meditation
♥ Balance
♥ Relieves stress
♥ Communication


Amethyst is a variety of Quartz and is a 6th Anniversary gemstone.


Chakras
- Third Eye and Crown
Birthstone
- February 
Zodiac
- Virgo, Sagittarius, Capricorn, Aquarius, Pisces 
Planet
– Jupiter
Element
– Air, Water
Typical colours - light slightly-pinkish violet to a deep grape purple
Amethyst is a powerful and protective stone.  It guards against psychic attack, transmuting the energy into love and protecting the wearer from all types of harm, including geopathic or electromagnetic stress and ill wishes from others.  Amethyst is a natural tranquiliser, it relieves stress and strain, soothes irritability, balances mood swings, dispels anger, rage, fear and anxiety.  Alleviates sadness and grief, and dissolves negativity.  Amethyst activates spiritual awareness, opens intuition and enhances psychic abilities.  It has strong healing and cleansing powers.  Amethyst encourages sobriety, having a sobering effect on overindulgence of alcohol, drugs or other addictions.  It calms and stimulates the mind, helping you become more focused, enhancing memory and improving motivation.  Amethyst assists in remembering and understanding dreams.  It relieves insomnia.  Encourages selflessness and spiritual wisdom.
Amethyst boosts hormone production, tunes the endocrine system and metabolism.  It strengthens the immune system, reduces pain and strengthens the body to fight against cancer. It destroys malignant tumours and aids in tissue regeneration.  Cleanses the blood.  Relieves physical, emotional and psychological pain or stress.  Amethyst eases headaches and releases tension.  It reduces bruising, swellings, injuries, and treats hearing disorders.  Amethyst heals diseases of the lungs and respiratory tract, skin conditions, cellular disorders and diseases of the digestive tract.
Whilst we endeavour to describe and size our products as accurately as possible, please remember Crystals and Gemstones are natural minerals each with their own beautiful and unique patterns and formations; therefore no two crystals or gemstones are ever the same and each piece we sell is unique in composition.

Please be note, as natural objects their appearances and size can vary from the images shown on our website and they may contain tiny fissures and pits.