Ametrine Light B Grade (LARGE) Tumbled Stone - Balancing, Soothing and Intuition - Crystal Healing
---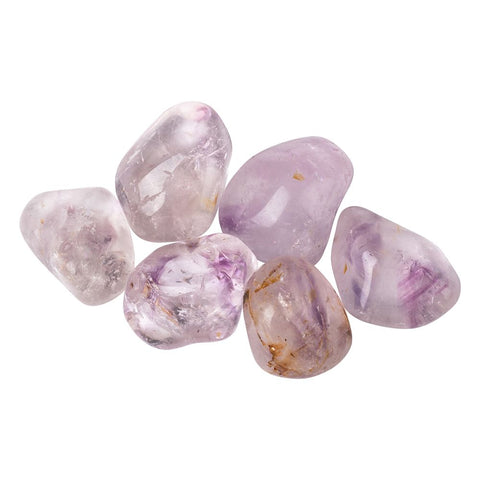 or make 4 interest-free payments of $1.25 AUD fortnightly with
More info
Ametrine can be used to enhance creativity and learning, and can therefore help those who use it to come up with creative solutions to difficult problems whether work-related or personal.
Ametrine combines masculine and feminine energy and helps bring harmony with others.
Many people use Ametrine for stress-relief, and as such, it is optimally placed in areas where you would need it the most, i.e. in an office or cubicle, in the car, in a pocket, or wherever you find yourself under stress.
Metaphysically, it is good for opening the Third Eye Chakra.
Ametrine helps to remove negativity from the physical body as well as the auric field, filling the area with the light and energy of love and healing. It will also assist in removing blockages from all bodies (physical, mental, spiritual, etc.).
Physically, Ametrine is a very soothing stone, believed to be valuable for those with chronic, long-term diseases

This Tumbled Ametrine from Brazil is a powerful combination of Amethyst and Citrine, connecting physical and spiritual realms.
The Amethyst of Ametrine can help you experience Divine Guidance, while the Citrine aspect allows for this guidance to be assimilated into your life.

1 x Ametrine in an Organza Pouch with information card.

♥  Anger Diffusing or Release
♥  Anxiety
♥  Coping with Grief
♥  Creativity and Creative Expression
♥  Decision Making
♥  Fear
♥  Motivation
♥  Phobias
♥  Self Confidence and Self Worth

♥  Aids Concentration
♥  AIDS/HIV
♥  Alzheimer's Disease
♥  Balances Metabolism
♥  Balancing Problems
♥  Circulatory Problems
♥  Exhaustion, Fatigue
♥  Headache and Migraine Relief
♥  Immune System Strengthening and Support
♥  Jaundice
♥  Mental Clarity
♥  Ulcers

 ♥ ♥ ♥ ♥ ♥ ♥ 

Primary Chakras: Solar Plexus, Third Eye and Crown
Zodiac
-
Libra and Gemini

Element:
Spirit and Fire
Affirmation:
 I can concentrate on the task at hand.


♥ ♥ ♥ ♥ ♥ ♥
Whilst we always endeavour to describe the size and quality of our Crystal, Tumbled Stones and other Gemstone Products as accurately as we can, please understand because Crystals and Gemstones are natural minerals they each have their own beautiful and unique patterns and formations; therefore no two crystals or gemstones will ever be the same and each piece we sell is unique in composition.

Crystals have inclusions, which appear naturally in gemstones. Sometimes they can be accidentally mistaken as cracks, but they're actually minerals that have been trapped within the crystal as it has grown. Inclusions are perfectly natural and make each individual crystal unique. They're part of the crystal's natural beauty and history.

Please bear the above  in mind when ordering.