Ancient Minerals Magnesium Oil ULTRA with MSM Bottle - Genuine Zechstein - 1-Litre
---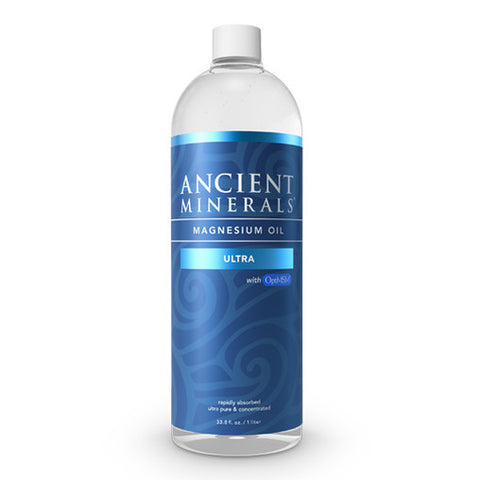 or make 4 interest-free payments of $16.75 AUD fortnightly with
More info
Ancient Minerals Magnesium Oil Ultra is a next generation formula incorporating the unique synergistic benefits of MSM and magnesium. MSM (Methylsulfonylmethane) has long been revered as a superior form of sulfur supplementation, but as a topical it enhances cell membrane permeability and may facilitate more efficient uptake of magnesium ions. Ancient Minerals Magnesium Oil Ultra contains approximately 1.6g elemental magnesium and 3.6g of MSM (OptiMSM®) per fl oz. Ancient Minerals Magnesium Oil Ultra utilizes premium distilled OptiMSM®, the world's purity standard for MSM.


Magnesium oil isn't actually an "oil" after all, but instead was coined as such due to the high saturation of magnesium chloride in water, which presents itself in an "oil-like" texture.
Where Does Ancient Minerals Magnesium Oil Come From?
Ancient Minerals ultra pure magnesium oil is extracted from the Ancient Zechstein Seabed in Europe, 1600 to 2000 meters deep in the interior of the Earth. Well protected for the last 250 million years, it is the most pure magnesium oil in the world and a mark of purity on every bottle of Ancient Minerals.
How do I use Ancient Minerals Magnesium Oil?
Ancient Minerals should be rubbed directly into the skin in concentrated form as needed. For use of magnesium in tub baths and foot baths, use Ancient Minerals Magnesium Flakes.

What are the Benefits of Ancient Minerals Magnesium Oil?
* Restores cellular magnesium levels
* Acts as a cellular protect ant
* Supports detoxification
* Relieves aches and pains
* Improves mood and relieves stress
* Encourages healthy skin tissue