Angel Rainbow Aura Quartz Generator Tower Obelisk - Crystal Healing - Gift Idea
---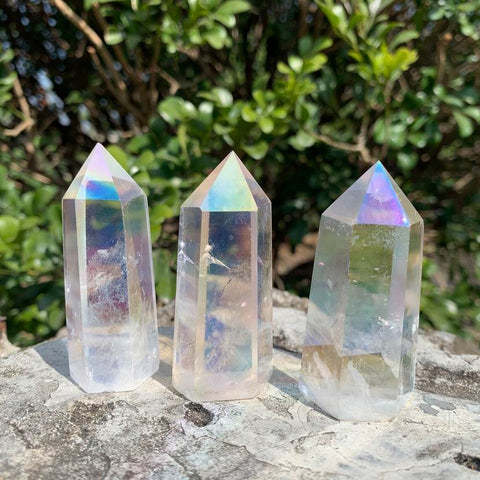 or make 4 interest-free payments of $6.00 AUD fortnightly with
More info
Crystal tower can be 6 or 8 sided with a flat base for it to stand. Towers can be carved and polished into this shape or they can be made from a natural crystal point like Quartz, Amethyst, or Citrine by cutting the bottom to be flat so it can stand.


The energy of a crystal tower is directed upward and out. Wherever they are placed they emit a very focused and directional energy that affects the area around it as well as any other crystals that are nearby.

Rainbow/Angel Aura Quartz Generator Obelisk
Size: about 2 cm wide, 7 cm high
with information card
More information on Rainbow/Angel Aura Quartz

 

Rainbow/Angel Aura Quartz is created when Clear Quartz crystals are super-heated in a vacuum chamber and infused with vaporized Silver and/or Platinum. These precious metals condense onto the surface of the quartz crystal to form a permanent bond with the lattice of the quartz. By combining the vibrations of Quartz with Silver and Platinum, a synthesis of unique vibrations is created.


Rainbow/Angel Aura Quartz
is a peaceful and tranquil crystal that assists in communications with Angels, Spirit Guides, and teachers and is used to cleanse the aura and promote higher levels of meditation. 
The high vibration
Rainbow/Angel Aura Quartz
is especially valuable to those suffering from stress or negativity.



♥ ♥ ♥ ♥ ♥ ♥



Chakra:
Crown
Zodiac:
Aries
Element:
Air
Affirmation: 
I am a clear channel of love, light, and well-being. All is well in my life. I have Divine timing. 

♥ ♥ ♥ ♥ ♥ ♥
Whilst we always endeavour to describe the size and quality of our Crystal, Tumbled Stones and other Gemstone Products as accurately as we can, please understand because Crystals and Gemstones are natural minerals they each have their own beautiful and unique patterns and formations; therefore no two crystals or gemstones will ever be the same and each piece we sell is unique in composition.

Crystals have inclusions, which appear naturally in gemstones. Sometimes they can be accidentally mistaken as cracks, but they're actually minerals that have been trapped within the crystal as it has grown. Inclusions are perfectly natural and make each individual crystal unique. They're part of the crystal's natural beauty and history.

Please bear the above  in mind when ordering.