Blue Lace Agate Gemstone and Lava Aroma Essential Oil Diffuser Bracelet - Hope, Strength and Balance - Mothers Day Day Gift Idea
---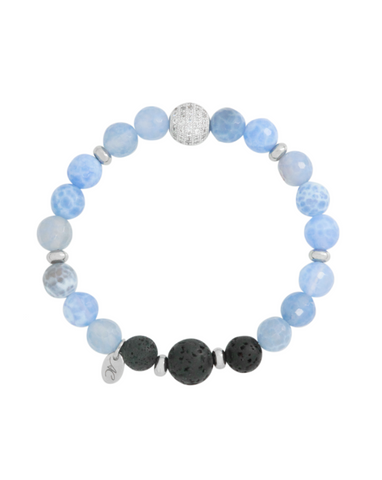 or make 4 interest-free payments of $11.00 AUD fortnightly with
More info

Quality handmade Faceted Blue Lace Agate and  Lava Essential Oil Diffuser Bracelet

Lava beads begin their journey to your jewelry as molten rock beneath an active volcano. At over 1,000 degrees Celsius the molten rock begins to melt and finally erupts out of the volcano. Once the lava meets the cooler air it solidifies and becomes this beautiful piece of jewelry. 
Blue Lace Agate
 - Stone of Hope | Strength | Balance
Immerse yourself in the beauty of Blue Lace Agate. You will find baby blue hues with white stripes all throughout. Not to mention the warm and comforting energy it gives off. TheCubic Zirconia center stone sparkles throughout the day on your wrist while the lave stones soak up the essential oil on your diffuser bracelet.  
Lava Stone
-  Strength | Courage | Calming | Grounding
DETAILS

Type: Lava Bracelet - Add a few drops of oil directly to the porous lava stone and aroma lasts for days!
Diffusing Method: Lava Stone
Bracelet Stone: Bracelet Stone: Faceted Blue Lace Agate 8mm 
Fits Wrist Size:  M/L : 7.5"
Stretch: Moderate
Other: 

Cubic Zirconia Grade AAA Center Bead;

Stainless Steel Spacers; Hypoallergenic; Tarnish Resistant 

Presented in a Black Velvet Pouch
Crystals and Gemstones are unique and each beautiful in pattern, please be aware that our images are for information purposes only as natural product their appearance and colour may vary from the images shown on the website
Add a few drops of your favorite essential oil to the porous lava rock on the bracelet.
The aroma will stay on the stones for 1-2 days.
You may add more aroma anytime you want for topical and aromatic benefits