Botswana Agate Crystal, Gemstone and Lava Aroma Essential Oil Diffuser Bracelet - Gift Idea
---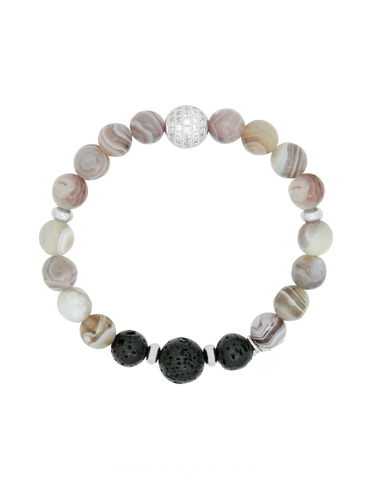 or make 4 interest-free payments of $11.25 AUD fortnightly with
More info

Quality handmade Botswana Agate and Lava Gemstone Essential Oil Diffuser Bracelet

Lava beads begin their journey to your jewellery as molten rock beneath an active volcano. At over 1,000 degrees Celsius the molten rock begins to melt and finally erupts out of the volcano. Once the lava meets the cooler air it solidifies and becomes this beautiful piece of jewellery. 
Lava Stone
 -  Strength | Courage | Calming | Stress Relief | Grounding
Botswana Agate wraps its layers of gentle pinks, brown and greys around the soul like soft, warm flannel. It is comforting and protective, soothing to those who are lonely, easily hurt or grieve a loss. Its quiet energy is particularly centering in meditation, and as a fortification Agate, it supports love and the strength to look for solutions rather than dwelling on difficulties.  

Botswana Agate is a variety of banded Chalcedony, a mineral of the Quartz family. It is predominantly banded in shades of pink and gray, though some layers may contain a muted brown or apricot.

Botswana Agate can help discover solutions instead of dwelling on problems and helps to explore creativity.  It is an excellent stone to aid those wishing to stop smoking as it is excellent for overcoming addictions and self destructive behaviour.  It is also great for lifting depression and alleviating stress.  

Botswana Agate is a stone which aids detoxification and increases fertility, passion, sensuality and sexuality. Emotionally it is so effective for emotional healing in the heart area and it helps remove blocks that prevent the acceptance of love.

DETAILS

❉ Type: Lava Bracelet - Add a few drops of oil directly to the porous lava stone and aroma lasts for days!
❉  
Diffusing Method: Lava Stone
❉  
Bracelet Stone: Botswana Agate 8mm
(please note the Botswana Agate Gemstones we have in stock at present are darker than the image displayed)

❉  
Size: 7.5" - 8"  (M/L)
❉  
Stretch: Moderate
❉  
Other Features: Stainless Steel Spacers, Hypoallergenic, Tarnish Resistant, Cubic Zirconia Grade AAA Pavé Spacer
❉ Presented in a Velvet Pouch
❉ 
Add a few drops of your favourite essential oil to the porous lava rock on the bracelet.
❉ 
The aroma will stay on the stones for 1-2 days.
❉ 
You may add more aroma anytime you want for topical and aromatic benefits
Crystals and Gemstones are unique and each beautiful in pattern, please be aware that our images are for information purposes only, as a natural product their appearance and colour may vary from the images shown on our website and backed by our lifetime guarantee.


Disclaimer
Our healing bracelet descriptions and crystal meanings are for Reiki, Spiritual and Vibrational support to healing, our bracelets or candles are not intended to cure, treat or mitigate any disease or illness and not to be consider treatment for any medical condition.