Bronzite Tumbled Stone - Protective, Grounding and Harmony - Crystal Healing
---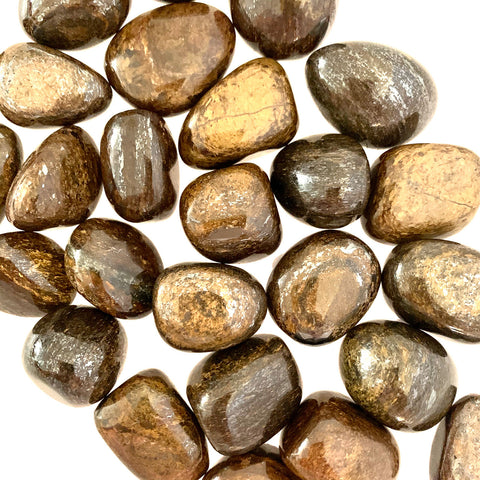 or make 4 interest-free payments of $1.00 AUD fortnightly with
More info
Bronzite is known as the "Stone of Focused Action" as well as the "Stone of Courtesy".

Bronzite promotes certainty and control, encourages us to take control over our own actions and enables us to be sure about what it is that we want in our lives.
Bronzite can alleviate the nervous anxiety that comes from new situations. A grounding stone, Bronzite also instils a sense of "stillness", allowing you to be more objective, seeing the bigger picture, and making a more informed decision.

Bronzite also enhances creativity and forward-thinking.  It can also dispel negative energy, especially for those under "psychic attack", sending the negativity back to its sender.
Physically, Bronzite eases stress, warms the extremities, helps with digestion, and supports healthy kidney function. It also balances the body's pH balance and enhances the assimilation of iron.

♥  Anxiety
♥  Creativity and Creative Expression
♥  Dispel or Release Negativity
♥  Focus
♥ Reducing Stress or Tension

♥  Digestion and Digestive System Health
♥  Kidney Disorders and Health
♥  Muscle Pain or Issues

 ♥ ♥ ♥ ♥ ♥ ♥ 

Primary Chakras: All
Zodiac
-
Leo
Affirmation:
 I send out loving thoughtful energy and I receive the same in return.


♥ ♥ ♥ ♥ ♥ ♥
Whilst we always endeavour to describe the size and quality of our Crystal, Tumbled Stones and other Gemstone Products as accurately as we can, please understand because Crystals and Gemstones are natural minerals they each have their own beautiful and unique patterns and formations; therefore no two crystals or gemstones will ever be the same and each piece we sell is unique in composition.

Crystals have inclusions, which appear naturally in gemstones. Sometimes they can be accidentally mistaken as cracks, but they're actually minerals that have been trapped within the crystal as it has grown. Inclusions are perfectly natural and make each individual crystal unique. They're part of the crystal's natural beauty and history.

Please bear the above  in mind when ordering.