Carnelian Crystal Gemstone Tree - LARGE Silver Branches with Brown Base - Energy, Creativity, Detoxification and Immunity
---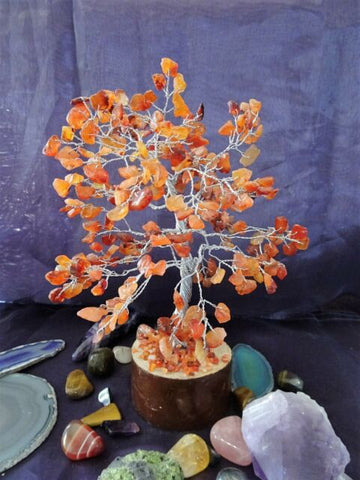 or make 4 interest-free payments of $10.25 AUD fortnightly with
More info
ENERGY
a warm and energising stone great for invigorating the mind and body. Promotes energy, creativity and self-esteem.
Crystal Trees 
are a beautiful way to bring the crystal healing energy into your home. Trees symbolise stability, growth and abundance. Surround yourself with their healing energy by placing a crystal tree in your sacred space, the living space of your home or your work environment. Each crystal has a different energy and will focus on different areas of your well-being. Surround yourself with the good vibes of crystals and let their positive energy benefit your overall well-being
Carnelian Crystal Gemstone Tree approx 20-24 cm in height

More information on Carnelian


♥ Emotional warmth
♥ Sociability
♥ Creativity
♥ Individuality
♥ Memory
♥ Appreciation of nature
♥ Harmony
♥ Courage
♥ Happiness
♥ Self-esteem
♥ Rebirth
♥ Reincarnation
♥ Past life recall


Chakras - Root, Sacral and Solar Plexus
Zodiac - Taurus, Cancer, Leo and Virgo


Carnelian treats lower back problems, rheumatism, arthritis, neuralgia and depression.  It regulates the kidneys, and accelerates healing in bones and ligaments.  Improves vitamin and mineral absorption and ensures good blood supply to organs and tissues.
This tree features 300 individually hand-wired crystals.