Carnelian Geometric Crystal, Gemstone and Lava Stone Aromatherapy Essential Oil Diffuser Bracelets - April Birthday Gift Idea
---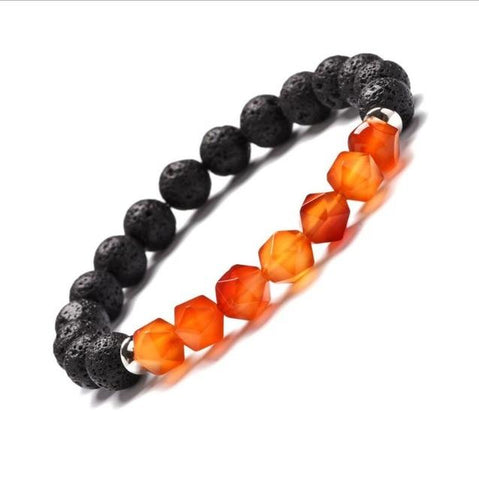 or make 4 interest-free payments of $7.50 AUD fortnightly with
More info
Natural Carnelian Geometric Gemstone and Lava Healing Essential Oil Diffuser Bracelet for Spiritual Protection.

Lava beads begin their journey to your jewellery as molten rock beneath an active volcano. At over 1,000 degrees Celsius the molten rock begins to melt and finally erupts out of the volcano. Once the lava meets the cooler air it solidifies and becomes this beautiful piece of jewellery. 
Lava Stone
-  Strength | Courage | Calming | Stress Relief | Grounding
Carnelian


A stabilising stone, Carnelian restores vitality and motivation, and stimulates creativity.  It gives courage, promotes positive life choices, dispels apathy and motivates for success.  Carnelian is useful for overcoming abuse of any kind.  It helps in trusting yourself and your perceptions.  It overcomes negative conditioning and encourages steadfastness.  Carnelian improves analytic abilities and clarifies perception.  It sharpens concentration and dispels mental lethargy.  Protects against envy, rage and resentment.  Calms anger, banishes emotional negativity and replaces it with a love of life.  Carnelian boosts fertility and stimulates sexuality.
Carnelian treats lower back problems, rheumatism, arthritis, neuralgia and depression.  It regulates the kidneys, and accelerates healing in bones and ligaments.  Improves vitamin and mineral absorption and ensures good blood supply to organs and tissues.
Affirmation: 
I have inner peace and joy
Chakra:  Base and Sacral
Astrological signs: Cancer, Leo and Taurus
Birthstone: July

Emotional 

♥ Acceptance
♥ Anger Diffusing or Release
♥ Comforting
♥ Courage
♥ Emotional Abuse
♥ Happiness
♥ Rage Diffusing or Release
♥ Self Confidence and Self Worth
♥ Understanding Death


Physical

♥ Allergies
♥ Appetite Control and Management
♥ Body Balance
♥ Body Detox
♥ Colds and Flu
♥ Colon Disorders and Health
♥ Edema
♥ Gallbladder
♥ Intestinal Disorders and Health
♥ Kidney Disorders and Health
♥ Liver Disorders and Health
♥ Low Blood Pressure
♥ Memory Health
♥ Ovarian Disorders or Cysts
♥ Pain Relief
♥ Pancreas Health
♥ Reproductive Organs
♥ Rheumatism
♥ Scoliosis
♥ Tissue Health and Healing
♥ Urinary Tract and Health
♥ Weakness



Spiritual
♥  Appreciation
♥  Balance
♥  Past Life Recall
♥  Reincarnation
♥  Right Use of Will
♥ Serenity
♥ Spiritual Protection


❉ 
Type:
Lava Bracelet - Add a few drops of oil directly to the porous lava stone and aroma lasts for days!
❉ 
Diffusing Method:
Lava Stones 8 mm
❉
 

Bracelet Stone: 
8 mm Natural Carnelian Geometric Chambay Lantern Gemstones 
❉
 

Other:
Stainless Steel Spacers
❉
 

Size:
Approx 19 cm 
❉ 
Handcrafted with carefully selected semi-precious gemstones
❉
 

Stretch:
Moderate
Presented in a Black Velvet Pouch
Add a few drops of your favourite essential oil to the porous lava rock on the bracelet.
The aroma will stay on the stones for 1-2 days.
You may add more aroma anytime you want for topical and aromatic benefits.