Celestite A Grade Tumbled Stone - Spirituality, Purity and Balance - Crystal Healing
---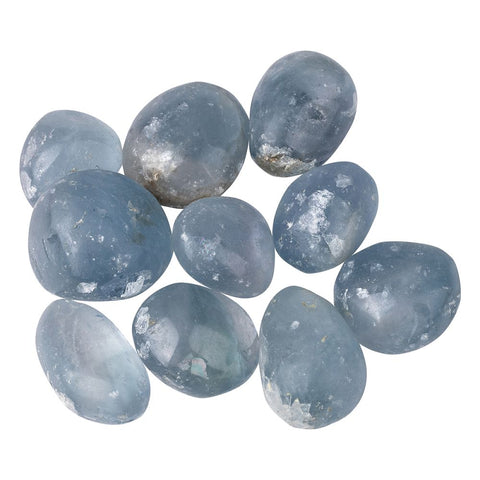 or make 4 interest-free payments of $2.00 AUD fortnightly with
More info
Celestite is a crystal of high vibration that is aligned with the crown, third eye, and throat chakras. It represents our connection to the divine and our ability to access higher consciousness and spiritual wisdom.

Spiritual uses: Celestite is the stone of angelic or heavenly communication. Use this stone to quickly reach the angels when you need things in your life to be a little easier. This lovely stone helps you recognize the heavenly messages in everything, from billboards, TV shows, and news headlines to innocent eavesdropping, number sequences, songs, dreams, and the voice within.
Mental uses: Celestite can be engaged with the intention of calming the incessant chatter of the mind.
Emotional uses: Celestite brings composure to turbulent emotions. The pastel blue vibration instils a sense of peace and comfort during tumultuous emotional times.
Physical uses: Celestite helps you to be truly present in your body while still being connected to the spiritual world.
Divine guidance: Do you feel a strong connection with your angels? Are you hearing messages from your angels? Have you noticed your live flows easily as if Divine timing is working in your life? You have a team of angels on your side orchestrating your life. They respond to your thoughts, wishes and dreams according to the Divine plan.

1 x Celestite in an Organza Pouch with information card. 

 ♥ ♥ ♥ ♥ ♥ ♥ 

Primary Chakras: Throat, Third Eye and Crown
Zodiac
- Gemini and Libra
Element:
Air
Affirmation:
 I feel no stress and have clear thoughts.

♥ ♥ ♥ ♥ ♥ ♥
Whilst we always endeavour to describe the size and quality of our Crystal, Tumbled Stones and other Gemstone Products as accurately as we can, please understand because Crystals and Gemstones are natural minerals they each have their own beautiful and unique patterns and formations; therefore no two crystals or gemstones will ever be the same and each piece we sell is unique in composition.

Crystals have inclusions, which appear naturally in gemstones. Sometimes they can be accidentally mistaken as cracks, but they're actually minerals that have been trapped within the crystal as it has grown. Inclusions are perfectly natural and make each individual crystal unique. They're part of the crystal's natural beauty and history.

Please bear the above  in mind when ordering.