Celtic Triquerta Cross Design Aromatherapy Essential Oil Diffuser Necklace - 30mm Silver - Free Chain - Mothers Day Gift Idea
---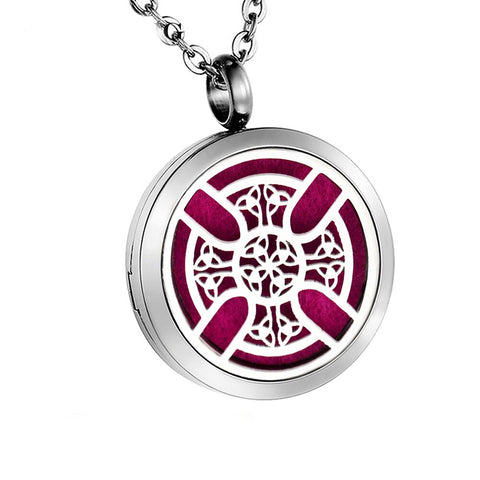 or make 4 interest-free payments of $9.25 AUD fortnightly with
More info

High Quality 316L Surgical Grade Stainless Steel 'Celtic Triquerta Cross' Design Essential Oil Diffuser Necklace  


The word 'Triquetra' comes from the Latin for 'three-cornered' and although its exact origins are unknown, it has been found on Indian heritage sites that are over 5,000 years old. It has also been found on carved stones in Northern Europe dating from the 8th century AD and on early Germanic coins.
The legendary Book of Kells, believed to be from the early 9th century, also bears the Trinity knot symbol amongst its other decorative artwork. It's likely the Trinity knot had religious meaning for pagans and it also bears a resemblance to the Valknut which is a symbol associated with Odin, a revered God in Norse mythology.

The Trinity knot Triquetra is symbolic of the threefold nature of the Goddess as mother, maiden and crone. The mother as a goddess is representative of creation, the maiden is representative of innocence and the crone is representative of wisdom. It is also representative of the forces of nature (earth, fire and water) and the three interlocking circles are symbolic of female fertility.

DETAILS

Type:
Pendant Necklace - Add a few drops of Essential Oi to the pad and then place inside the Diffuser Locket and the aroma will last for days!
Diffusing Method:
Eco Friendly Bamboo/Hemp Fabric - 5 discs included
Locket Metal:
316L Surgical Grade Stainless Steel
Chain Metal:
316L Surgical Grade Stainless Steel
Locket Size:
 30mm Celtic Triquerta Cross
Chain Length:
20" (50cm) - 2.5mm wide
Other Features:
Hypo-allergenic and Tarnish resistant
Small Gift Box included