Chakra Pashmina (Blue) Throat - Scarf - Shawl - Cashmere Blend
---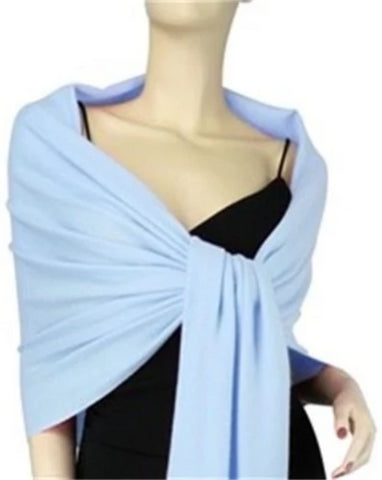 or make 4 interest-free payments of $6.75 AUD fortnightly with
More info
CHAKRA BALANCING Pashmina BLUE Chakra 5 throat chakra knowledge, health and decisiveness Characteristics of personality: Loyal, tactful, affectionate, inspiring, full of ideas, caring and careful.

Blue is a spiritual colour and has to do with self expression -speech, communication, can express our wants and needs. In the spirit of truth and purpose.

This is also a colour that has a calming effect on the nervous system and provides room for relaxation - perfect for sleeping and hyperactive children. Connects us to holistic thinking and gives us wisdom and understanding, so again the speech communication is improved. Positive aspects: loyalty, trustworthy, tactful and peaceful. Un-balanced aspects: no trust, hard to trust, will always be right and aloof.
100% Cashmere Blend Dimensions: 200cm x 70 cm