Child's Little Tumbled Amethyst, Clear Crystal Quartz and Lava Stone Aromatherapy Diffuser Bracelet - Handcrafted
---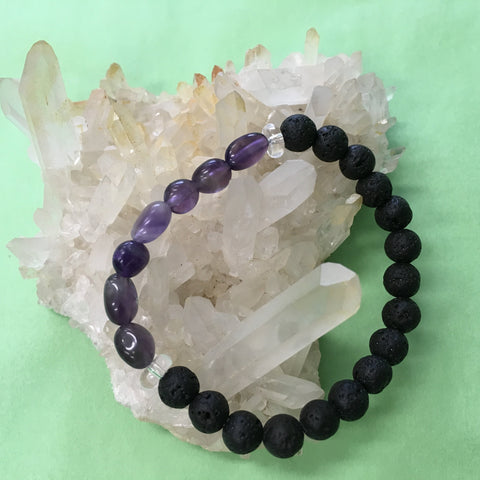 or make 4 interest-free payments of $8.00 AUD fortnightly with
More info
We have combined the Spiritual powers of both Amethyst and Clear Crystal Quartz in this lovely bracelet. 

DESCRIPTION  
Lava beads begin their journey to your jewellery as molten rock beneath an active volcano. At over 1,000 degrees Celsius the molten rock begins to melt and finally erupts out of the volcano. Once the lava meets the cooler air it solidifies and becomes this beautiful piece of jewellery.  
❉
 

Type:
Lava Bracelet - Add a few drops of oil directly to the porous lava stone and aroma lasts for days!
❉
 

Diffusing Method:
Lava Stone 6 mm 
❉ 
Clear Quartz Crystal:
Spacers 6 mm
❉
 

Amethyst Crystal:
 Genuine tumbled Amethyst 6 mm approx.
❉
 

Fits Wrist Size:
 16 cm 
❉ 
Presented in Velvet Pouch
❉
 

Stretch:
Moderate
Add a few drops of your favourite essential oil to the porous lava rock on the bracelet.
The aroma will stay on the stones for 2-3 days.
You may add more aroma anytime you want for topical and aromatic benefits
Please ensure that the Essential Oils you purchase are suitable for Children