Chrysocolla Tumbled Stone (PERU) - Tranquility, Serenity and Peace - Crystal Healing
---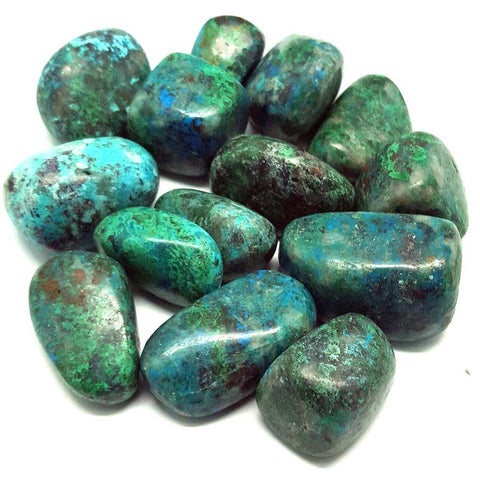 or make 4 interest-free payments of $3.00 AUD fortnightly with
More info
Chrysocolla - the stone of communication

Chrysocolla calms, cleanses and re-energises all the chakras.  It draws out guilt, heals heartache and increases the capacity to love.  Improves communication and opens psychic vision.  Encourages self-awareness and inner balance.  Imparts confidence and sensitivity. 

Chrysocolla enhances personal power and inspires creativity.  Overcomes phobias by drawing out negativity and supplying motivation.  Reduces mental tension.  Promotes truth-telling and impartiality.  Alleviates guilt and brings in joy.
Chrysocolla treats arthritis, bone disease, osteoporosis, muscle spasms, blood disorders and lung problems.  It detoxifies the liver, kidneys and intestines.  Re-oxygenates the blood, regenerates the pancreas and regulates insulin.  Strengthens muscles and alleviates muscle cramps. 

Chrysocolla heals infections, lowers blood pressure and soothes burns.  Treats PMS and menstrual cramps.
1 Tumbled Stone with Organza Pouch 

More information on Chrysocolla

 




♥ Tranquility
♥ Serenity
♥ Peace
♥ Subconscious wisdom
♥ Intuition
♥ Patience
♥ Nurturance
♥ Acceptance
♥ Tolerance
♥ Unconditional love
♥ Calmness
♥ Meditation
♥ Honesty
♥ Hope
♥ Intimacy
♥ Gentleness
♥ Sensitivity


Chrysocolla is a mineral containing copper.

Affirmation: Infinite possibilities are available to me.


Chakras - Throat and Heart Chakra
Zodiac - Taurus, Gemini and Virgo

Typical colours - blue - blue green - green

Please be note: as natural objects their appearances and size may vary from the images shown on our website and they may also have tiny fissures and pits, please bear this in mind when ordering.