Clear Crystal Quartz Gemstone Tree - MEDIUM - Silver Branches with Brown Base - Crystal Healing
---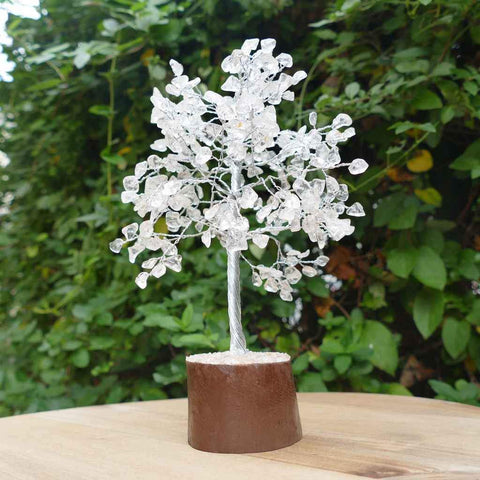 or make 4 interest-free payments of $8.50 AUD fortnightly with
More info
Crystal Trees 
are a beautiful way to bring the crystal healing energy into your home. Trees symbolise stability, growth and abundance. Surround yourself with their healing energy by placing a crystal tree in your sacred space, the living space of your home or your work environment. Each crystal has a different energy and will focus on different areas of your well-being. Surround yourself with the good vibes of crystals and let their positive energy benefit your overall well-being.
Clear Crystal Quartz Gemstone Tree - approx 20 - 22cm in Height - Brown Base
Clear Crystal Quartz known as the 'master healer'

Clear Crystal Quartz is the most powerful healing and energy amplifying crystal. This stone balances the Chakra's, cleanses the aura, absorbs, stores, releases and regulates energy and facilitates in releasing any energy blockages.

Clear quartz is a rockstar among crystals as it is believed to manifest your intentions & illuminate the spirit.

Use quartz to cleanse, dispel negative energy and allow pure energy to manifest.


♥ Harmony
♥ Energy
♥ Healing
♥ Psychic abilities
♥ Clarity
♥ Calmness

Clear Quartz is also known as Crystal Quartz or Rock Crystal.  It is a natural form of silicon dioxide and is a 10th Anniversary gemstone.
Chakras
- Crown, All
Zodiac
- All
Planet
– Sun
Element
– Air, Water, Earth and Fire
This tree features 300 individually hand-wired crystals.