Chevron (Banded) Amethyst Tumbled Stone MEDIUM - Insomnia, Revelation, Intuition and Healing - Crystal Healing
---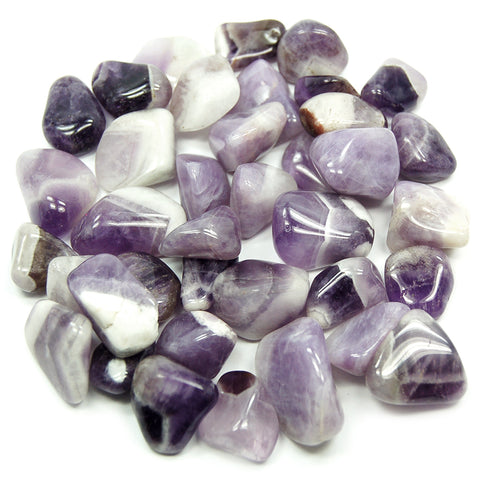 or make 4 interest-free payments of $1.50 AUD fortnightly with
More info
SLEEP 
helps aid a good nights sleep
 and brings about positive dreams. Promotes spiritual wisdom and understanding
Banded/Chevron Amethyst encourages and supports inner strength, as well as dissipates and repels negativity.
Banded/Chevron Amethyst is one of the best stones to work with the Third-Eye, enhancing both intuition and physical vision on all planes of existence.
Banded/Chevron Amethyst creates a strong healing field around the user, and as such is a good choice to speed up physical healing and stimulate the immune system.
Tumbled Banded/Chevron Amethyst is a combination of Amethyst and White Quartz, mixed together in a striped, banded or chevron V-striped pattern. Chevron Amethyst combines the strengthening and enhancing qualities of Quartz with the stress relieving qualities of Amethyst. This symbiotic combination of minerals lends itself to a wonderfully spiritual stone, which is great for gently removing the veils that obscure some of the hidden meanings in life.
1 Tumbled Stone with Organza Pouch (information card unavailable at this time)

More information on Amethyst


♥ sleep
♥ 
Anger Diffusing or Release
♥ 
Coping with Changes
♥ 
Coping with Grief
♥ 
Coping with Loss
♥ 
Decision Making
♥ 
Emotional Balance
♥ 
Emotional Pain
♥ 
Fear
♥ 
Focus
♥ 
Love, Motivation
♥ 
Night Terrors and Nightmares
♥ 
Rage Diffusing or Release
♥ 
Selflessness 
♥ 
Digestion and Digestive System Health
♥ 
Endocrine System and Glands
♥ 
Headache and Migraine Relief
♥ 
Respiratory Health
♥ 
Skin Infections and Irritations
♥ 
Swelling
Amethyst is a variety of Quartz and is a 6th Anniversary gemstone.

Affirmation: My aura is clear of negative energies.

Chakras
- Third Eye and Crown
Birthstone
- February 
Zodiac
- All
Planet
– Jupiter
Element
– Air, Water
Typical colours - light slightly-pinkish violet to a deep grape purple
Whilst we always endeavour to describe the size and quality of our Crystals, Tumbled Stones and other Gemstone Products as accurately as we can, please understand because Crystals and Gemstones are natural minerals they each have their own beautiful and unique patterns and formations; therefore no two crystals or gemstones will ever be the same and each piece we sell is unique in composition.

Please be note: as natural objects their appearances and size may vary from the images shown on our website and they may also have tiny fissures and pits, please bear this in mind when ordering.