Dalmatian Jasper Tumbled Stone - Protection, Grounding and Negative Energy - Crystal Healing
---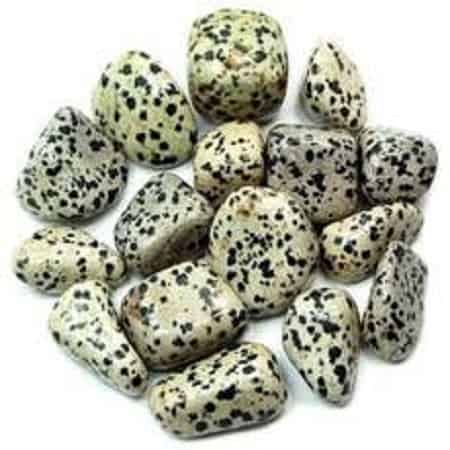 or make 4 interest-free payments of $1.25 AUD fortnightly with
More info
DALMATIAN STONE Dalmatian Jasper, also known as Dalmatian Stone is a wonderful stone to work with for those who are overly analytical. It helps the over-analyzer to ground and center all bodies (physical, emotional, intellectual, etc.) to maintain balance and connection with the etheric energie

Dalmatian Jasper helps to harmonise the emotions and assists in maintaining composure, even under the most difficult circumstances. Dalmatian Jasper is a wonderful piece to use when you want to review and reflect on past actions and decisions, so if a similar situation has presented itself, you will be prepared to make a more informed choice.

1 x Dalmatian Jasper Tumbled Stone with Organza Pouch 
Protection
Grounding
Transmutes Negative Energy

Dispels Nightmares
Stamina
Calming
Calming Animals
Emotional Stabilising
Affirmation: I go with the flow of the universe, knowing that I am protected.

Chakras: Root and Solar Plexus
Zodiac Sign: Gemini

Whilst we always endeavour to describe the size and quality of our Crystal, Tumbled Stones and other Gemstone Products as accurately as we can, please understand because Crystals and Gemstones are natural minerals they each have their own beautiful and unique patterns and formations; therefore no two crystals or gemstones will ever be the same and each piece we sell is unique in composition.

Please be note: as natural objects their appearances and size may vary from the images shown on our website and they may also have tiny fissures and pits, please bear this in mind when ordering.