Dr Organic Hemp Oil 2 in 1 Shampoo and Conditioner 265ml
---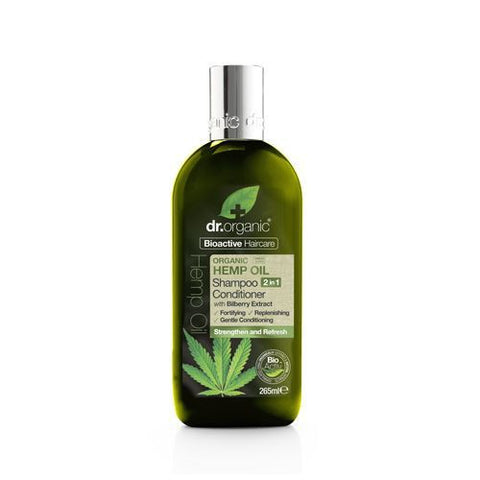 or make 4 interest-free payments of $5.75 AUD fortnightly with
More info
Organic Hemp Oil is rich in essential fatty acids (EFAs) and Omega 3, 6 and 9, essential for healthy looking hair, and is described as 'nature's most perfectly balanced oil'. In combination with a host of bioactive and organic extracts including Bilberry Extract and enriched with a blend of Amino Acids, this replenishing two in one shampoo and conditioner stimulates the hair leaving it looking and feeling refreshed, strengthened and visibly conditioned.


Benefits:
• 2-in-1 Shampoo & Conditioner for Everyday Use
• Strengthens And Refreshes
• Fortifying
• Replenishing
• Gentle Conditioning


Description:
Rich in Essential Fatty Acids and the super antioxidant Vitamin E, Hemp oil is an excellent natural hydrator for both skin and hair. Hemp Oil will prevent water loss and inject moisture into the hair and scalp and since it's easily absorbed it doesn't leave a sticky, oily residue. It can also stimulate hair growth by improving blood circulation on the scalp, ensuring that the hair follicles are nourished enough to support hair growth. When hair is excessively dry it becomes weak and breaks easily. Due to its hydrating ability, Hemp Oil is able to help hair maintain its natural texture and strength. Use Dr. Organic Hemp Oil 2 In 1 Shampoo & Conditioner as an easy and economical cleansing solution that leaves your hair deeply moisurised, vibrant and beautifully conditioned.


Dr. Organic Hemp Oil 2 In 1 Shampoo & Conditioner is formulated to strengthen and refresh hair. This unique formulation of organic Hemp Oil, rich Omega 3 & 6 Oils and bioactive plant extracts offers a number of hair care benefits which include fortifying, replenishing and gentle conditioning properties. Additionally, it is delicately perfumed with selective and healthful essential oils that moisturise and rebuild the hair. Essential oils not only add fragrance to personal care products but contribute medicinal benefits as well. They help remedy a number of hair and scalp problems from dry, lifeless hair to dandruff and thinning hair. Essential oils added to shampoo and conditioner can relieve and moisturise the scalp, stimulating the scalp and promoting hair growth while adding shine and softness to hair.


The number one ingredient in Dr Organic Shampoo is Aloe Vera. Aloe Vera is well known for its moisturising and healing effects and as such is a perfect ingredient for use in hair care products. Aloe's beneficial properties make it ideally suited for use in products intended to restore and strengthen hair. Following are four reasons why the addition of Aloe in hair care products is an excellent hair treatment choice.
1.) Aloe Vera can be useful in dandruff treatment and prevention. Just like Aloe Vera can sooth dry skin from sun burn, it can moisturise a dry scalp, which helps to alleviate the presence of flaky skin.
2.) Aloe Vera is effective for the treatment of dry, brittle hair. As a rinse it adds moisture without the worries of oil or product build-up.
3.) Aloe Vera helps to tame frizzy hair while leaving your hair silky smooth and glossy. This is due to the high content of amino acids in Aloe which promote strength and increases shine to the hair.
4.) Aloe Vera can help to prevent frequent hair loss and promote hair growth. Using Aloe regularly will rejuvenate the hair follicles and help to reduce thinning.


Direction for Use:
Simply wash your hair with this 2-in-1, no need to use a separate conditioner. Rinse thoroughly and dry your hair as normal.