Dr Organic Royal Jelly Body Wash 250ml
---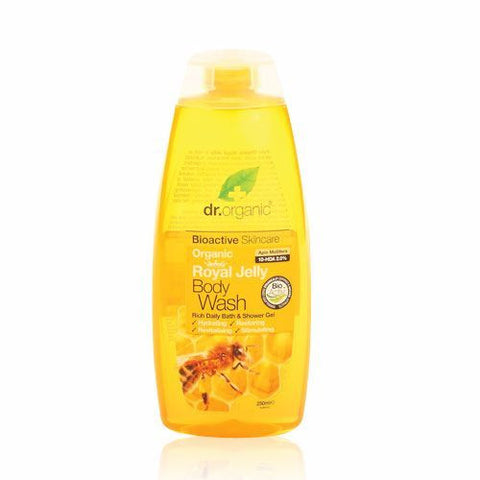 or make 4 interest-free payments of $3.25 AUD fortnightly with
More info

A revitalising rich daily shower gel based on Organic Royal Jelly, Aloe Vera, Red Clover, Honey, Heather plus Cedarwood, Lemon, Geranium, Patchouli, Pettigrain and sandalwood Essential Oils. These exceptionally restoring and cell regenerating ingredients leave the body feeling naturally cleansed, refreshed and comfortables all day long whilst bio activity impregnating the skin with stimulating organic energy.

Benefits of Body Wash:
• Prevents Premature Aging of Skin
• Firms Skin
• Improves Skin Hydration
• Improves the Appearance of Wrinkles
• Anti-Inflammatory
• Revitalising
• Restoring
• Stimulating
Dr. Organic Royal Jelly Body Wash is a rich, daily bath and shower gel; a luxurious, natural, non-synthetic formula. It is delicately perfumed with selective and healthful essential oils that moisturise and nourish the skin. Essential oils not only add fragrance to personal care products but also contribute medicinal benefits as well. They help remedy a number of skin problems from acne and aging to the treatment of inflammatory conditions.
Royal Jelly, a thick, paste like substance secreted by honeybees to feed and nurture queen bees, contains high concentrations of many nutrients that are beneficial to humans. This unique combination of vitamins, amino acids, lipids, minerals and plant hormones makes royal jelly a superb ingredient to help maintain a youthful appearance. Throughout history this wonderful, medicinal ingredient has been heralded as nature's fountain of youth. It is ideal for rejuvenating and nourishing the skin, while its anti-aging properties help maintain the skins elasticity, texture and tone. Royal Jelly's fats have natural moisturizing properties that protect skin from dehydration and reduce inflammation. Amino acids are a component of collagen, which keeps the skin firm. Just as royal jelly helps to extend significantly the queen bee's life span, the antioxidant compounds found in royal jelly can also work to eliminate the free radicals that normally cause premature aging of our cells. Antioxidants can help to improve the appearance of wrinkles and to maintain a healthy glow to your skin. To reap the benefits of this wonderfully nutritious super food for your skin, try Dr. Organic Royal Jelly Body Wash to restore, hydrate and nourish your skin during your daily bath or shower routine.
The number one ingredient in all of Dr. Organic Body Wash Products is Aloe Vera. Aloe Vera is well known for its soothing and calming effects and as such is a perfect ingredient for use in skin care products. Aloe's beneficial properties make it ideally suited for use in products intended to soothe and calm sensitive, delicate and dry skin. Aloe enhances natural cell renewal, improving texture and elasticity so the skin is firmer, more supple and luminous. Scientific research suggests that Aloe can hydrate through three epidermal layers of skin when used topically. It also provides the benefit of driving nutrients and other constituents into the deeper layers of the skin, which promotes epidermal health. In addition to providing hydration to the skin, Aloe Vera promotes an attractive, refreshed and healthy appearance.
Direction for Use:
Lather Dr. Organic Royal Jelly Body Wash and apply as required on body.
Ingredients:
Aloe barbadensis leaf juice, Aqua, Sodium cocoamphoacetate, Sodium lauroyl sarcosinate, Cocamidopropyl betaine, Lauryl glucoside, Coco glucoside, Glyceryl oleate, Shea butteramidopropyltrimomium chloride, Royal jelly extract, Mel (Manuka honey), Trifolium pratense (Clover) flower extract, Calluna vulgaris (Heather) flower extract, Parfum*, Juniperus virginiana (Cedarwood) oil, Citrus medica limonum (Lemon) peel oil, Pelargonium graveolens (Geranium) oil, Pogostemon cablin (Patchouli) oil, Citrus aurantium amara (Bitter orange) leaf oil, Santalum album (Sandalwood) oil, Sorbitan sesquicaprylate, Citric acid, Ascorbic acid, Potassium sorbate, Sodium hydroxymethylglycinate, Citronellol, Hexyl cinnamal, Hydroxycitronellal, Limonene
Suitable for Vegetarians and Vegans