Dr Organic Royal Jelly Night Cream 50ml
---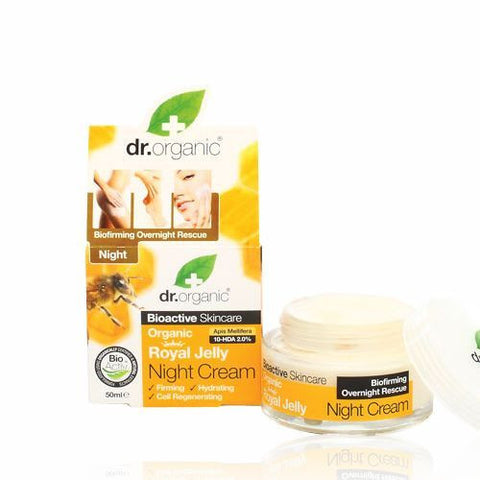 or make 4 interest-free payments of $5.00 AUD fortnightly with
More info

Bioactive Organic Royal Jelly is rich in amino acids, nutrients and cell regenerating epi genetic properties ideal for use in anti-aging skincare. We combine this unique active with a complex proprietory blend of bioactive, natural and organic ingredients

Benefits of Night Cream:
• Intense Hydration
• Helps with Firmness and Tone
• Cell Protection Against Free Radicals
• Rejuvenating
• Regenerating
• Prevents Premature Aging of Skin
• Improves the Appearance of Wrinkles
• Anti-Inflammatory
Dr. Organic Royal Jelly Night Cream is an overnight facial moisturiser that as a healthy aging cream penetrates the subcutaneous layers of the epidermis, leaving the skin deeply hydrated and softened. Enriched with organic and natural bioactive ingredients from botanical extracts this cream has concentrated amounts of Essential Fatty Acid (EFA's), Vitamin E and other Antioxidants, making it a highly effective, fast absorbing anti-aging facial skin treatment. It is delicately perfumed with selective and healthful essential oils that moisturise and nourish the skin. Essential oils not only add fragrance to personal care products but contribute medicinal benefits as well. They help remedy a number of skin problems from acne and aging to the treatment of inflammatory conditions. These precious oils are combined with a complex proprietary blend of natural ingredients, including Menyanthes Trifoliata (an aquatic plant). Menyanthes Trifoliata offers free radical protection for the skin as well as protecting Vitamin C levels and reinforcing collagen synthesis. Along with the fatty acids (Omega-3 and 6) provided by a variety of nourishing plant oils such as, (Argan Oil, Coconut Oil, Avocado Oil, Borage Oil, and Shea Butter) Dr. Organic Royal Jelly Night Cream provides anti-aging and regenerating benefits.
Benefits of Royal Jelly:
Royal Jelly, a thick, paste like substance secreted by honeybees to feed and nurture queen bees, contains high concentrations of many nutrients that are beneficial to humans. This unique combination of vitamins, amino acids, lipids, minerals and plant hormones makes royal jelly a superb ingredient to help maintain a youthful appearance. Throughout history this wonderful, medicinal ingredient has been heralded as nature's fountain of youth. It is ideal for rejuvenating and nourishing the skin, while its anti-aging properties help maintain the skins elasticity, texture and tone. Royal Jelly's fats have natural moisturizing properties that protect skin from dehydration and reduce inflammation. Amino acids are a component of collagen, which keeps the skin firm. The cosmetic function of royal jelly includes improving the appearance of wrinkles and stretch marks, boosting elasticity and firmness, and normalizing the fat secretions of skin glands to reduce oiliness. Just as royal jelly helps to extend significantly the queen bee's life span, the antioxidant compounds found in royal jelly can also work to eliminate the free radicals that normally cause premature aging of our cells. Antioxidants can help to improve the appearance of wrinkles and to maintain a healthy glow to your skin.
The number one ingredient in all of Dr. Organic Night Cream Products is Aloe Vera. Aloe Vera is well known for its soothing and calming effects and as such is a perfect ingredient for use in skin care products. Aloe's beneficial properties make it ideally suited for use in products intended to soothe and calm sensitive, delicate and dry skin. Aloe enhances natural cell renewal, improving texture and elasticity so the skin is firmer, more supple and luminous. Scientific research suggests that Aloe can hydrate through three epidermal layers of skin when used topically. It also provides the benefit of driving nutrients and other constituents into the deeper layers of the skin, which promotes epidermal health. In addition to providing hydration to the skin, Aloe Vera promotes an attractive, refreshed and healthy appearance.
Ingredients:
Aloe barbadensis leaf juice, Aqua, Glycerin, Caprylic/Capric triglyceride, Butyrospermum parkii (Shea butter), Simmondsia chinensis (Jojoba) seed oil, Glyceryl stearate, Dicaprylyl ether, Cetearyl alcohol, Menyanthes trifoliata leaf extract, Cetearyl glucoside, Rhus verniciflua peel wax, Macadamia ternifolia seed oil, Calendula officinalis oil, Xanthan gum, Chondrus crispus (Carrageenan) extract, Sodium stearoyl glutamate, Carica papaya seed oil, Royal jelly extract, Mel (Manuka honey), Trifolium pratense (Clover) flower extract, Calluna vulgaris (Heather) flower extract, Ascorbic acid, Propolis extract, Parfum*, Juniperus virginiana (Cedarwood) oil, Citrus medica limonum (Lemon) peel oil, Pelargonium graveolens (Geranium) oil, Pogostemon cablin (Patchouli) oil, Citrus aurantium amara (Bitter orange) leaf oil, Santalum album (Sandalwood) oil, Citric acid, Sodium benzoate, Potassium sorbate, Citronellol, Hexyl cinnamal, Hydroxycitronellal, Limonene

Suitable for Vegetarians
Organic Ingredients

Vegetarian

BPA Free