Garnet Tumbled Stone - Love, Loyalty and Commitment - Crystal Healing
---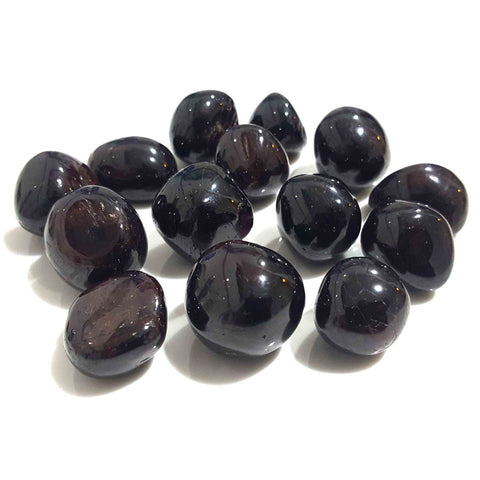 or make 4 interest-free payments of $1.25 AUD fortnightly with
More info
Garnet has been used for centuries by emperors, knights, and warriors as a protective Talisman, by Hindu and Buddhist followers as a holy stone of enlightenment, as well as by Native North and South American Indian, Aztec, Mayan, and African Tribal cultures.
The flash and fire of Garnet inspires a sense of lightness and brightness, illuminating to dark places and dark souls.

Garnet is a good stone for depression, bringing joy and hope to its user, and helps lessen anger, especially towards oneself. 

Garnet's fire stimulates the survival instinct, bringing willpower and courage to a situation.

Garnet will quickly "light a fire" under you, bringing those internalized ideas and feeling you have to the surface to be acted upon and carried out.
Powerful Garnet can cleanse the chakras of negative energies and re-energize them. Use Garnet to balance the Sacral Chakra and sex drive, and to aid in the controlled rise of Kundalini energy.
Garnet inspires love and passion, devotion and loyalty. A stone of commitment, Garnet encourages personal relationships of all kinds, and is a useful relationship tool both personally and in business

♥ Compassion
♥ Crisis Intervention
♥ Dignity
♥ Honesty
♥ Love
♥ Loyalty
♥ Relationships
♥ Self Confidence and Self Worth
♥ Willpower


♥ Abdominal Problems
♥ Anemia
♥ Arthritis
♥ Blood Circulation
♥ Blood Cleansing and Detoxing
♥ Blood Disorders
♥ Circulatory Problems
♥ Colic
♥ Exhaustion
♥ Fatigue
♥ Heart
♥ Hyperactivity
♥ Impotence
♥ Intestinal Disorders and Health
♥ Kidney Disorders and Health
♥ Legs
♥ Libido/Sex Drive
♥ Low Blood Pressure
♥ Menopause
♥ Nutrient/Mineral/Vitamin Absorption
♥ Pancreas Health
♥ Pituitary Gland
♥ Stomach Problems/Constipation/Diarrhea
♥ Thyroid Balance and Health
♥Vitality

 ♥ ♥ ♥ ♥ ♥ ♥ 

Primary Chakras: Root, Sacral and Heart
Zodiac
-
Leo, Virgo, Capricorn and Aquarius
Affirmation:
 I am loyal to myself and others.


♥ ♥ ♥ ♥ ♥ ♥
Whilst we always endeavour to describe the size and quality of our Crystal, Tumbled Stones and other Gemstone Products as accurately as we can, please understand because Crystals and Gemstones are natural minerals they each have their own beautiful and unique patterns and formations; therefore no two crystals or gemstones will ever be the same and each piece we sell is unique in composition.

Crystals have inclusions, which appear naturally in gemstones. Sometimes they can be accidentally mistaken as cracks, but they're actually minerals that have been trapped within the crystal as it has grown. Inclusions are perfectly natural and make each individual crystal unique. They're part of the crystal's natural beauty and history.

Please bear the above  in mind when ordering.