Grape Agate (LARGE) Tumbled Stone - Group Support, Spirituality and Balance - Crystal Healing
---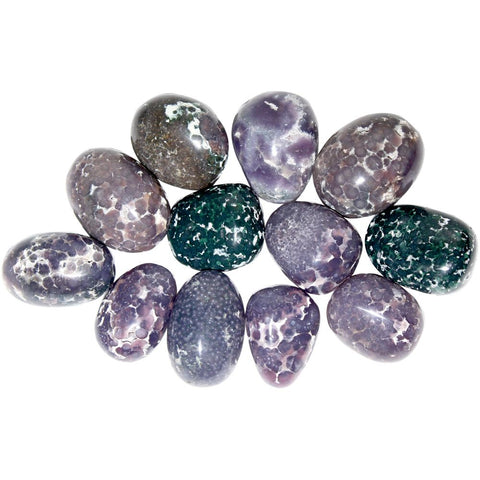 or make 4 interest-free payments of $3.00 AUD fortnightly with
More info
Grape Agate is perfect for dispelling feelings of anger and fear. It also alleviates irritability, sadness and bipolar disorder.
Keep a piece in a room where your family spends a lot of time to bring unity. It promotes community and unites the collective.
Grape Agate helps with self-assurance and confidence.
When life has gotten dull and lacks joy, Grape Agate works to bring the sweetness back into your life.
Physically, Grape Agate alleviates and supports dementia and Alzheimer's, and arthritis.

1 x Grape Agate in an Organza Pouch with information card.


♥ Anger Diffusing or Release
♥ Eases Depression
♥ Enjoyment
♥ Fear
♥ Happiness
♥ Promotes Confidence
♥ Self Confidence and Self Worth 

♥ Alzheimer's Disease
♥ Arthritis
♥ Bipolar Disorder
♥ Dementia

♥ ♥ ♥ ♥ ♥ ♥ 

Primary Chakras: Third Eye and Crown
Zodiac
-
 Pisces

Element:
 Air and Spirit
Affirmation:
I will have good dreams tonight.


♥ ♥ ♥ ♥ ♥ ♥
Whilst we always endeavour to describe the size and quality of our Crystal, Tumbled Stones and other Gemstone Products as accurately as we can, please understand because Crystals and Gemstones are natural minerals they each have their own beautiful and unique patterns and formations; therefore no two crystals or gemstones will ever be the same and each piece we sell is unique in composition.

Crystals have inclusions, which appear naturally in gemstones. Sometimes they can be accidentally mistaken as cracks, but they're actually minerals that have been trapped within the crystal as it has grown. Inclusions are perfectly natural and make each individual crystal unique. They're part of the crystal's natural beauty and history.

Please bear the above  in mind when ordering.