Green Aventurine Angel Carving 50mm - Healing, Abundance and Growth - Crystal Healing
---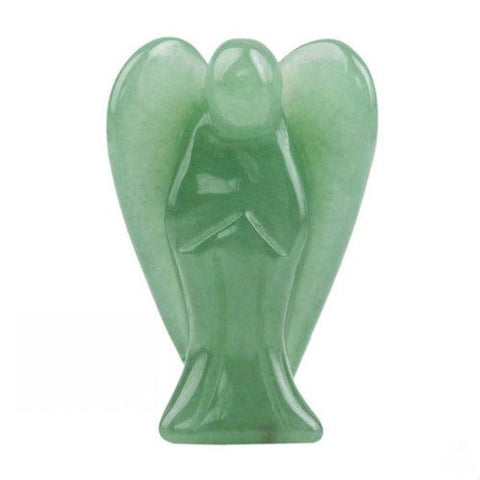 or make 4 interest-free payments of $6.75 AUD fortnightly with
More info
For spiritual and emotional protection, nothing compares to a guardian angel carved out of rose quartz.

With heart shaped wings, this Green Aventurine Angel Carving spreads love and radiates calming energy. 
Green Aventurine comforts, harmonizes, and protects the heart, and can help attract love later in life.
Green Aventurine is good for working with the Heart Chakra and with the Water Elements.

Green Aventurine is known as the good luck stone and is often used in rituals with green candles, or kept in cash boxes or drawers to attract money.

Green Aventurine has a particularly soothing energy behind it, and is recommended for working through unresolved emotional issues.
Physically, Green Aventurine is said to be an all around healing stone with benefits for the lungs, liver, sinuses, and heart.

Use Green Aventurine to loosen and release negativity and energy blockages, including disease. Some wear or carry Green Aventurine to increase intelligence, perception and creativity. Some even use Green Aventurine to improve their eyesight!

Many people love to combine the expansive energy of Green Aventurine with the prosperous energy of Citrine when they want to work on increasing their abundance opportunities.
Primary Chakra: Heart

Astrological signs: Aries, Taurus and Virgo
Affirmation:
I am a part of the Tree of Life.
Green Aventurine Angel
Size: about 31~36 mm wide, 19mm long and 48~51mm high.

Presented in a Velvet Pouch

Whilst we endeavour to describe and size our products as accurately as possible, please remember Crystals and Gemstones are natural minerals each with their own beautiful and unique patterns and formations; therefore no two crystals or gemstones are ever the same and each piece we sell is unique in composition.

Please be note, as natural objects their appearances and size can vary from the images shown on our website and they may contain tiny fissures and pits.