Green Aventurine Puff Heart 70mm - Comfort, Luck, Healing and Love - Crystal healing
---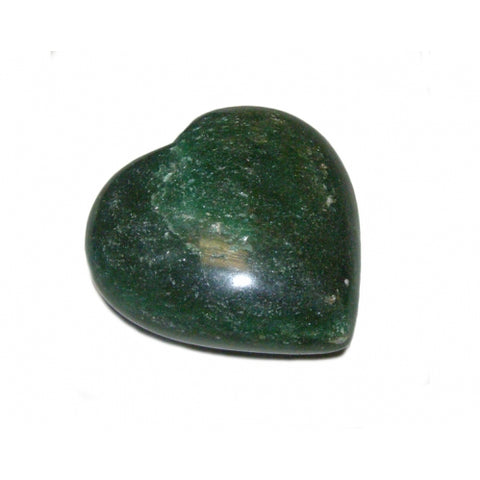 or make 4 interest-free payments of $8.25 AUD fortnightly with
More info
COMFORT 
believed to dispel negative emotions and thoughts. Green Aventurine is an all round healer, bringing emotional calm and well-being.

Green Aventurine Puff Hearts 70mm

More information on Green Aventurine

♥ Creativity
♥ Imagination
♥ Independence
♥ Prosperity
♥ Calmness
♥ Career success
♥ Balance
♥ Heals circulation
♥ Heals congestion


Chakras - Heart Chakra
Zodiac
-
Aries, Taurus, Leo and Libra
Typical colours
 -
Green, but may also be orange, brown, yellow, purple, blue or grey
Aventurine is a stone of prosperity.  It reinforces leadership qualities and decisiveness.  Promotes compassion and empathy.  Encourages perseverance. 

Aventurine relieves stammers and severe neuroses.  It stabilises one's state of mind, stimulates perception and enhances creativity.  Aids in seeing alternatives and possibilities.  Calms anger and irritation.  Promotes feelings of well-being. 

Aventurine balances male-female energy.  It encourages regeneration of the heart.  Protects against environmental pollution.
Aventurine benefits the thymus gland and nervous system.  It balances blood pressure and stimulates the metabolism, lowering cholesterol. 

Aventurine has an anti-inflammatory effect and eases skin eruptions, allergies, migraines, and soothes the eyes.  It heals lungs, sinuses, heart, muscular and urogenital systems.
In addition to the generic healing properties of Aventurine, specific colours have additional attributes:
Green Aventurine
Chakras - Heart Chakra
Green Aventurine is a comforter and heart healer.  It neutralises all sources of electromagnetic pollution, blocking out emanations from computers, television and other electronic equipment. 

Green Aventurine settles nausea and dissolves negative emotions and thoughts.  It brings well-being and emotional calm.  A good all-round healer.

We endeavour to describe and size our products as accurately as we can, but

Crystals and Gemstones are natural minerals each with their own beautiful and unique patterns and formations; therefore no two crystals or gemstones are ever the same and each piece we sell  is unique in composition.

Please be note, as natural objects their appearances and size can vary from the images shown on our website and they may contain tiny fissures and pits. 

Returns or exchanges are not accepted our crystal and gemstone products