Healing Tumbled Stones Set - Set 5 - Amethyst, Carnelian, Rose Quartz, Clear Quartz and Sodalite
---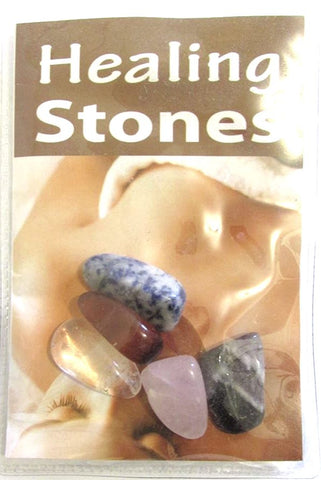 or make 4 interest-free payments of $2.75 AUD fortnightly with
More info
Set of 5 Healing presented in clear snaplock gift bag with carry pouch and small information leaflet

Amplify the healing power of crystals in your home with our range of gemstone pouches.
Each pouch features a beautiful selection of tumbled polished gemstones. These stones are chosen to specifically attune the energies of your space, attracting spiritual and emotional benefits based on your desires.
A fantastic gift for crystal collectors or those in need of positive energy healing.

Amethyst - may ease headaches, release tension and stress

Carnelian - may help to ease asthma and hay fever. May also stimulate one's vitals and metabolisom

Rose Quartz - may help to strengthen the heart and lungs. May soothe burns and soften the complexion

Clear Crystal Quartz - believed to be a master healer for any condition. May stimulate the immune system

Sodalite - may help block negatove energy
Crystals and Gemstones are unique and each beautiful in pattern, please be aware that our images are for information purposes only as natural product their appearance and colour and size fo the stone may vary from the images shown on our website

Disclaimer
Our healing crystal meanings are for a spiritual and vibrational support to healing,  our bracelets or candles are not intended to cure, treat or mitigate any disease or illness.