Hemp Seed Oil Capsules with Turmeric - Immune Support - 100 Soft Gel Capsules
---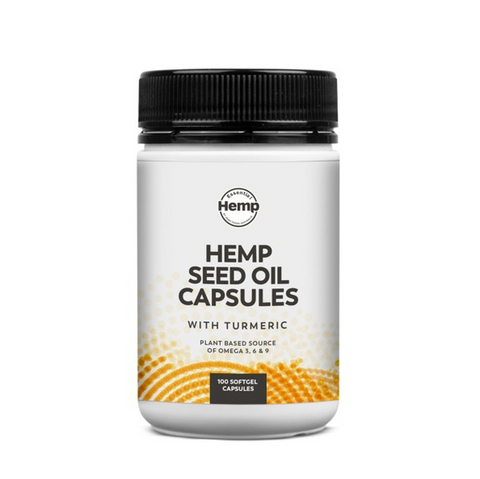 or make 4 interest-free payments of $5.00 AUD fortnightly with
More info
Hemp Seed Oil with Turmeric Capsules
100 x 1100 mg Capsules


Hemp Oil, distilled from hemp seeds has an astounding 3:1 ratio of omega 6 to omega 3 (far superior to fish oil). These essential fatty acids are not produced naturally by us. So this ideal balance of omegas is used by the body for generating and repairing cell membranes, improving circulation and strengthening the immune system.
The oil is also proven to increase the body's level of GLA (Gamma-linoleic acid). GLA has a strong anti-inflammatory effect, easing the pain of skin disorders like eczema. It may also help with the symptoms occurring from chronic health problems like allergies, arthritis and may also accelerate the healing of wounds. 
Hemp seed oil contains all 20 amino acids, including 9 essential amino acids that our body's can't produce. What's more it is a natural blend of vitamins, calcium, magnesium, amino acids, vitamin b1 and b2, essential fats and a great source of fibre.

In fact, hemp seed oil is such a rich source of essential minerals that daily consumption will promote bone health, increase oxygen circulation, boost your immune system, promote heart health and much more...

Hemp Seed Oil Capsules are produced from the same high quality Hemp Seed as the bottled oils, but in a convenient 1100 mg easy to take soft gel capsule that can be used by the entire family.


Easily absorbed
Supports general health & well-being
Convenient on-the-go capsules
Plant source of Omega 3, 6 & 9
1000mg of hemp seed oil inc Turmeric per capsule




Turmeric comes from the root (rhizome) of a flowering plant of the ginger family, namely the Curcuma Longa plant. Turmeric is bursting with active ingredients, the main one being curcumin, which has powerful antioxidant and anti-inflammatory affects and is responsible for turmeric's vibrant orange colour.

Turmeric is packed with bio-active compounds that have powerful medicinal benefits. The most prominent of these is curcumin, which has been shown to have significant anti-inflammatory and antioxidant properties.


Powerful Medicinal Benefits

Suppresses Inflammation

High Anti-Oxidant Properties

Improves Brain Function

Improves Heart Health

Reduces Joint Pain

Anti Amyloid Properties
Ingredients
Hemp Seed Oil (66%), Gelatin, Glycerol, Turmeric, Powder (3%), Water, Beeswax, Colour (Annatto, Titanium Dioxide), Antioxidant (d-alpha Tocopherol), Turmeric Oil (0.1%).
Free from:
Wheat, gluten, yeast, dairy, preservatives or sweeteners.