Immunity, Cold and Flu Fighter Healing Crystal Gemstone and Lava Beads Bracelet - Aromatherapy Diffuser - Handcrafted
---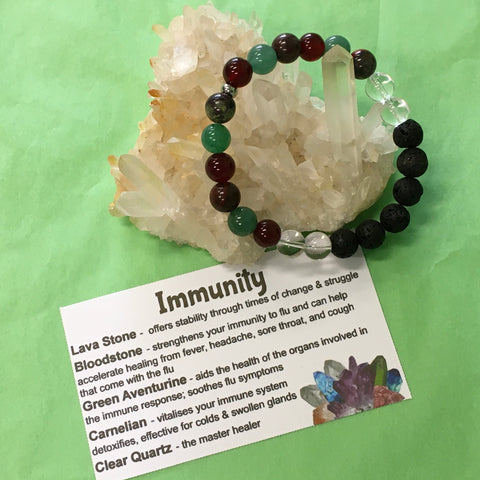 or make 4 interest-free payments of $10.00 AUD fortnightly with
More info

We have designed a range of specific healing crystal/gemstone bracelets to support you emotionally, and through day to day life challenges, made with quality AA grade crystals or gemstones and backed by our lifetime guarantee....

Immunity (Cold and Flu Fighter) Bracelet, made with
Lava Stone -  known for its calming and healing properties, add your favourite essential oil to act as a mobile diffuser.  Also, offers stability through times of change and struggle

Bloodstone - gets the energy and chi moving throughout your body with its revitalising properties. Strengthens your immunity to flu and can help accelerate healing from fever, headache, sore throat and a cough that come with the flu

Green Aventurine - aids the health of the organs involved in the immune response; soothes flu symptoms

Green Aventurine benefits the thymus gland and nervous system. It balances blood pressure and stimulates the metabolism, lowering cholesterol. 

Green Aventurine has an anti-inflammatory effect and eases skin eruptions, allergies, migraines, and soothes the eyes. It heals lungs, sinuses, heart, muscular and urogenital systems.

Carnelian - vitalises your immune system 
detoxifies and is effective for colds and swollen glands

Clear Crystal Quartz - the master healer

Dimensions
💚 Handcrafted in-store with strong stretchy elastic
💚 Standard length of 18 cm
(which can be adjusted prior to shipping just message us with the length you require)
💚 Genuine A Grade quality crystals and gemstones
💚 Presented in a Velvet Pouch with description card
💚 Crystals and Gemstones are unique and each beautiful in pattern, please be aware that our images are for information purposes only as natural product their appearance and colour may vary from the images shown on our website

We also offer a personalised/customised service on our handcrafted bracelets, so if there is a specific healing bracelet you require just message us with your requirements and we shall send you a quotation. 

or if you live in Wagga Wagga or the surrounding area just pop into the shop for a wee chat.

Disclaimer
Our healing bracelet descriptions and crystal meanings are for a spiritual and vibrational support to healing,  our bracelets or candles are not intended to cure, treat or mitigate any disease or illness.