Indian Agate Tumbled Stone MEDIUM (INDIA) - Protection, Security, Concentration and Calming - Crystal Healing
---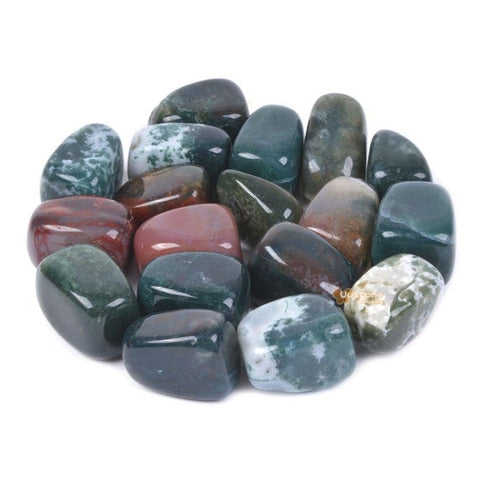 or make 4 interest-free payments of $1.25 AUD fortnightly with
More info
Indian Agate Use Indian Agate to help bring on a deeper appreciation to life, and the beauty that we miss in our daily on the go life. This Agate will remind you to stop and smell the flowers, to be in touch with nature, and to enjoy being human. Its powerful grounding effects are very calming, and relieve stress. You can also set it as a protection stone to ward off bad luck, spells, and the evil eye. 

Indian Agate,has all hues of the lower chakras working on the heart all the way down to the root. The root is the seed of security and self love, when in balance one will feel and increase in willingness to step into their power. Moving up to the sacral, this is the stem of creativity and passion. When a person learns to love themselves they are able to express their arts and passions more creatively. Moving up to the solar plexus that evolves into a person being able to trust their gut, and act with conviction on their desires. All of which help open in the heart to begin embodying who they are at their core, loving themselves, and the reflections they put out into the world. This would pair perfectly with Fluorite that works on the Heart, Throat, Third Eye, and Crown Chakra. 
1 x Medium (2-3 cm) Indian Agate Tumbled Stone with Organza Pouch

More information on Indian Agate


♥ Stone of Eternity
♥ Releases inner beauty and wisdom
♥ Releases old emotions
♥ Calming
♥ Concentration
♥ Coping with Grief
♥ Peace and Tranquillity
♥ Reducing Stress or Tension
♥ Grounding



Affirmation: I release emotional issues and they are gently healed


Chakras
- 
Heart - Solar Plexus - Sacral - Root
Zodiac
- Aries, Taurus, Gemini and Libra
Colours:
It is mixed colours, but predominantly green
Physical 
Indian Agate stimulates the healing of muscle tissue, blood flow, metabolism, and the digestive system. With muscle tissue it can help with faster recovery of muscle tears, tissue damage, and cellular repair. With blood flow it can assist in overall circulation improving brain and heart health. It helps the body digest and absorb nutrients better thus increasing overall immune health to fight against infections.
Whilst we endeavour to describe and size our products as accurately as possible, please remember Crystals and Gemstones are natural minerals each with their own beautiful and unique patterns and formations; therefore no two crystals or gemstones are ever the same and each piece we sell is unique in composition.

Please be note, as natural objects their appearances and size can vary from the images shown on our website and they may contain tiny fissures and pits.