Kid's Clear Crystal Quartz and Lava Stone AromaTherapy Diffuser Bracelet - Handcrafted- - Spiritual and Physical Protection
---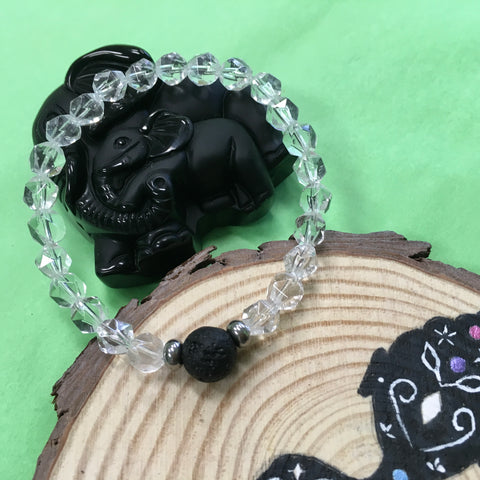 or make 4 interest-free payments of $5.75 AUD fortnightly with
More info
Kid's Handcrafted  "Clear Crystal Quartz and Lava" Essential Oil Aroma Lava Diffuser Bracelet
Designed and Handcrafted by CALA Designs

DESCRIPTION  
Our Little Aromatherapy Lava Bracelets are a perfect size for any child and are designed to last, we use only the finest quality lava beads and crystals/gemstones, as well as looking great they offer your child the therapeutic benefits of Essential Oils and the Spiritual Benefit of Crystals/Gemstones - Anywhere, Anytime

Our Crystal, Gemstone and Aromatherapy Lava Child's Bracelets are handcrafted by us using smaller 6 mm genuine AAA Grade Crystals/Gemstones, they are ideally proportioned for smaller wrists and come in a standard 16 cm size 
Lava beads begin their journey to your jewellery as molten rock beneath an active volcano. At over 1,000 degrees Celsius the molten rock begins to melt and finally erupts out of the volcano. Once the lava meets the cooler air it solidifies and becomes this beautiful piece of jewellery. 

Lava Stone - Strength | Courage | Calming | Grounding  
Clear Crystal Quartz 
- the stone of ultimate power   
Clear Quartz is the most versatile stone of all crystals. It embodies the white-ray and amplifies the energy of any stone. This crystal is best known for its use to be programmed with intention, along with it's ability to heal any condition. It brings balance by cleansing, opening and activating all of the Chakras.
Chakra's - ALL especially Brow (Third Eye), Crown and soul star

DETAILS
Type: Lava Bracelet - Add a few drops of oil directly to the porous lava stone and aroma lasts for days!
Diffusing Method: Lava Stone 10 mm  
Gemstone: Genuine Faceted Clear Crystal Quartz Gemstones 6 mm
Fits Wrist Size: 16 cm 
Stretch: Moderate

Presented in Velvet Pouch
Add a few drops of your favourite essential oil to the porous lava rock on the bracelet.
The aroma will stay on the stones for 2-3 days.
You may add more essential oil at anytime you want for topical and aromatic benefits
Just need a healing gemstone bracelet for your child, choose without Lava Stone.