Kid's Lapis Lazuli and Lava Stone Aroma Diffuser Bracelet - Communication, Intuition and Inner Power
---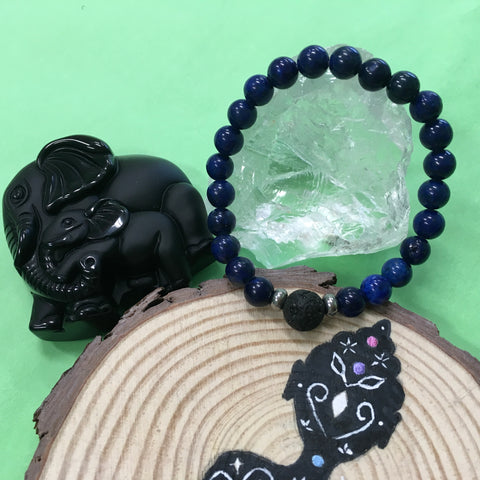 or make 4 interest-free payments of $5.75 AUD fortnightly with
More info
Kid's Handcrafted "Lapis Lazuli and Lava" Essential Oil Aroma Lava Diffuser Bracelet
Designed and Handcrafted by CALA Designs

DESCRIPTION  
Our Little Lava Bracelets are a perfect size for any child and are designed to last, we use only the finest quality lava beads and gemstones, as well as looking great they offer your child the therapeutic benefits of Essential Oils and the benefits of gemstones Anywhere, Anytime. 

Our Gemstone and Lava Kids Bracelets are handcrafted by us using smaller 6 mm genuine gemstones, they are ideally proportioned for smaller wrists and come in a standard 16 cm size.
Lava beads begin their journey to your jewellery as molten rock beneath an active volcano. At over 1,000 degrees Celsius the molten rock begins to melt and finally erupts out of the volcano. Once the lava meets the cooler air it solidifies and becomes this beautiful piece of jewellery. Lava beads promote strength and fertility - driving away anger, and assisting one in the understanding of a problem while strengthening our connection to Mother Earth.
Lava Stone
-  Strength | Courage | Calming | Stress Relief | Grounding  
Lapis Lazuli
 - the stone of total awareness
High Vibration Crystal
Lapis Lazuli resonates with the vibrational energy of truth and enlightenment. It is said to impart ancient knowledge and wisdom. Best used for it's magical and medicinal properties, along with it's ability as a psychic facilitator.
Lapis Lazuli is known to hold the soul of the deity, "Isis". One must raise the vibration of their own to match the vibration of this stone. This is one of the most powerful stones and should be used with utmost caution. Use only with love in the heart, comprehension in the mind and wisdom in soul.
Children
 - 
a wonderful stabilizer for children who show psychic gifts early in life. The deep blue colour stimulates expansion of consciousness in a very supportive way, promoting purification and clarify of spiritual insight. Lapis Lazuli instills self-acceptance of one's given gifts and encourages openness of one's spiritual awareness. 
Chakra's
 - Third Eye
DETAILS

Type: Lava Bracelet - Add a few drops of oil directly to the porous lava stone and aroma lasts for days!
Diffusing Method: Lava Stone 10 mm  
Gemstone: Genuine Faceted Clear Crystal Quartz Gemstones 6 mm
Fits Wrist Size: 16 cm 
Presented in Velvet Pouch
Stretch: Moderate


Add a few drops of your favourite essential oil to the porous lava rock on the bracelet.
The aroma will stay on the stones for 2-3 days.
You may add more essential oil at anytime you want for topical and aromatic benefits
Just need a healing gemstone bracelet for your child, choose without Lava Stone.