Kyanite (BLUE) Tumbled Stone -Communication, High Vibration and Dreaming - Crystal Healing
---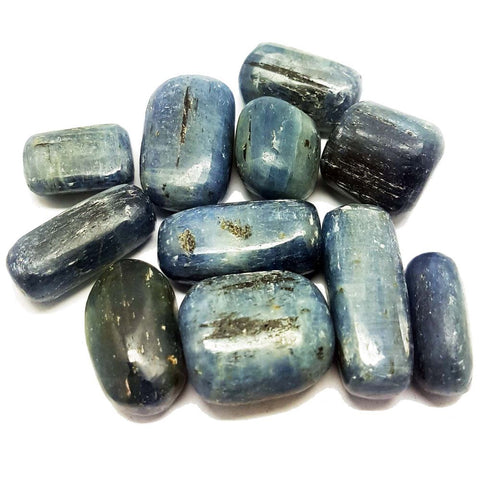 or make 4 interest-free payments of $2.25 AUD fortnightly with
More info
Blue Kyanite is especially good for working with the Throat Chakra and communication issues. Blue Kyanite helps to speak one's truth with clarity, making it a great stone for public speakers and performers.
An excellent Third-Eye Chakra stone, Blue Kyanite can pull very high vibrations in through this chakra to be processed as messages from other realms. It can transfer a high vibration, allowing for an opening of psychic abilities, especially during meditation. Blue Kyanite can also be used to promote lucid dreaming and astral travel.
Blue Kyanite also facilitates an alignment of all the subtle bodies, creating a larger and stronger aura.
Kyanite transmits and amplifies high-frequency energies, making it a great stone for attunements and meditation. Kyanite brings a calming, tranquilizing energy to the body. Kyanite clears and calms you in preparation for meditation, and assists in receiving intuitive and psychic thoughts, as well as dream recall. Kyanite restores Qi (or Ki) to the physical body, and balances yin/yang energies.
Physically, Blue Kyanite is useful for ameliorating throat and voice ailments. It can help with mobility and speech difficulties, especially after a stroke. Use Blue Kyanite to keep bone marrow, cells, and tissue healthy. A good crystal to enhance brain function and the entire neurological system. Linked to the Air Element, Blue Kyanite can also help with sinus issues.

1 x Blue Kyanite in an Organza Pouch with information card.

♥ Communication and Expression
♥ Public Speaking
♥ Reducing Stress or Tension
♥ Tranquillity

♥  Bone Marrow
♥  Brain Disorders and Health
♥  Mobility
♥  Nervous System Regeneration and Healing
♥ Neurological System
♥  Speech
♥  Stroke
♥  Throat
♥  Thyroid Balance and Health
♥  Tissue Health and Healing

 ♥ ♥ ♥ ♥ ♥ ♥ 

Primary Chakras: Throat and Third Eye
Zodiac
-
Pisces, Aries, Taurus and Libra

Element:
Air and Water
Affirmation:
 I am empowered to speak the truth.


♥ ♥ ♥ ♥ ♥ ♥
Whilst we always endeavour to describe the size and quality of our Crystal, Tumbled Stones and other Gemstone Products as accurately as we can, please understand because Crystals and Gemstones are natural minerals they each have their own beautiful and unique patterns and formations; therefore no two crystals or gemstones will ever be the same and each piece we sell is unique in composition.

Crystals have inclusions, which appear naturally in gemstones. Sometimes they can be accidentally mistaken as cracks, but they're actually minerals that have been trapped within the crystal as it has grown. Inclusions are perfectly natural and make each individual crystal unique. They're part of the crystal's natural beauty and history.

Please bear the above  in mind when ordering.