LOVE Aromatherapy Lava Diffuser Bracelet - Rose Quartz, Morganite and Rainbow Moonstone - Gift Idea
---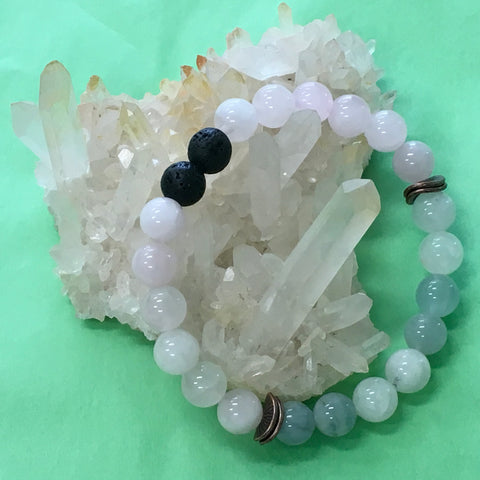 or make 4 interest-free payments of $11.25 AUD fortnightly with
More info

Our beautiful Love Bracelet will bring you whatever type of you love you require in your life. Made with Rose Quartz, Morganite, and Rainbow Moonstone, this bracelet assists you to infuse love into existing relationships, attract new relationships, and send a little more love to yourself.

Let the stones within the Love Bracelet fill your spirit with the energy of love and open your heart all of the different types of love in your life.

Rose Quartz for unconditional love. By healing your heart and helping you to practice forgiveness, understanding, and compassion, Rose Quartz helps you to love unconditionally. It removes blockages in the heart caused by pain so you can return to a state of love. With this unconditionally loving aura, you become more attractive to others. Think of Rose Quartz as a love magnet that draws new love into your life.  

Morganite for self love. If you find yourself overcome by self-judgement and self-criticism, use the energy of morganite to shift toward self-forgiveness and self-love. The morganite meaning helps you treat yourself with love by balancing the heart chakra. Embrace the tenderness of a morganite stone so you can give yourself the loving kindness you deserve.

Rainbow Moonstone for loving the soul and living your destiny. This stone brings harmony into relationships. When you deeply love and accept yourself and your path, you make room for new relationships and show up as your best self in those relationships. This sets you up for a healthy, harmonious connection with those around you. Rainbow Moonstone also helps you to embrace your destiny and trust that love comes and goes for a reason. You can let go of controlling relationships, and have faith that they begin and end when it is their time to do so.


Copper Wavy Spacers
Copper is a healing metal that enhances the energy of crystals. As one of the most effective energy conductors, it takes the Love Bracelet Healing Properties to another  level.
Affirmation:
My heart is open. I am love.  
The Love Bracelet is handcrafted in-store with genuine 8mm crystal beads on elastic and approx 19cm in length. The Love Bracelet can be customised, so if you require a smaller or larger bracelet just let us know in the comments section of your order

Due to the nature of crystals, all the beads may vary slightly in shape, size, color and pattern from the images on our website