Labradorite (Brazil) Pyramid 50mm - Transformation, Anxiety, Depression and Protection - Crystal Healing
---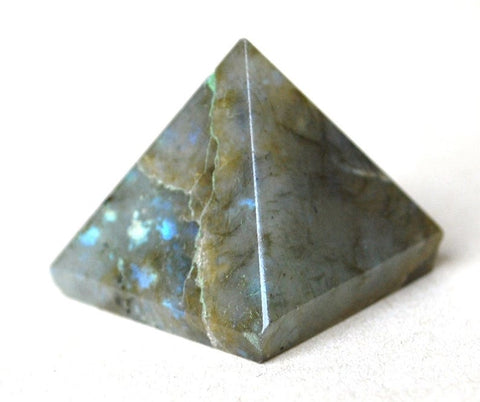 or make 4 interest-free payments of $11.75 AUD fortnightly with
More info
This stunning Labradorite Pyramid is approximately 5cm in size. Labradorite is believed to be a highly mystical stone and protective stone, that is said to be the bringer of light. It raises consciousness and connects with universal energies

TRANSFORMATION  enourages subtle changes that will enhance you physically, spiritually and mentally. Dispells Anxiety and Depression.

Labradorite reminds us that we are magic.

Highly mystical, Labradorite heightens intuition and enhances psychic abilities, making it great for working with the Third Eye Chakra. Intuition and intellect are balanced by Labradorite, illusions are dispelled and true intentions are seen more easily with its use.
Labradorite is also very protective against negative energies because it is highly shielding but it can also balance and protect the aura. Additionally, it can seal the aura from energy leaks as well.
Labradorite is useful for bringing up and healing old memories, including past life issues.
Labradorite Crystal Healing Properties:

Labradorite activates the inner eye allowing one to more clearly envision the past, future, and distant places. It can assist one in moving into alternate levels of consciousness and vibration, helping one to consciously 'move between the worlds. Assisting with the manifestation of serendipity and synchronicity, Labradorite shows us the wonderful opportunities that arise when we are in harmony with all our aspects, both mundane and spiritual.
Labradorite History and Uses:

Labradorite is a stone which displays beautiful flashes of iridescent colours of blue, green, yellow, copper and grey. It gets it's name from the location it was found in 1770 by Moravian missionaries in Labrador in Canada. It had been used by the native people of Maine for over a thousand years, Inuit people believed it to have been pieces of the Aurora Borealis which had fallen to earth. It has been used by shamans and healers as a stone of protection, self discovery and universal awareness.  In the 1940's a type of Labradorite which displays the whole spectrum of colours was found in Finland and named Spectrolite.

Labradorite Pyramind  AAA Grade
Size:  Approx. L5cm x D45m x H5cm

Affirmation: I welcome transformation into my life.
Chakras -  All

Zodiac
- 
Sagittarius, Scorpio and Leo
Element
- Fire
Crystals and Gemstones
 are natural minerals each with their own beautiful and unique patterns and formations; therefore no two crystals or gemstones are ever the same and each piece we sell is unique in composition.
Please be note
, as natural objects their appearances and size can vary from the images shown on our website and they may contain tiny fissures and pits, please bear this in mind when ordering.