Ladies Natural Chinese Jade with Gold Chinese Knot Spacers Bracelet - Handcrafted
---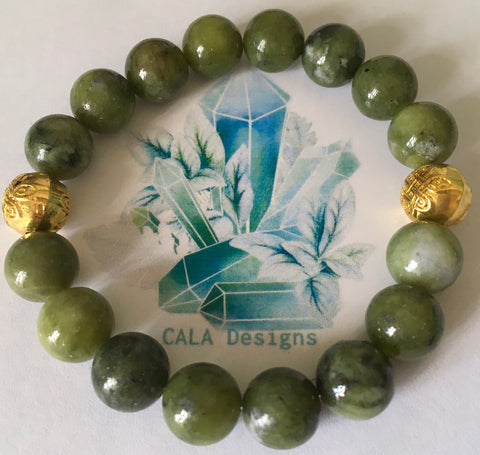 or make 4 interest-free payments of $10.25 AUD fortnightly with
More info
Natural Chinese Jade Bracelet with Silver Chinese Knot Spacersl
Designed and Handcrafted by CALA Designs in-store using superior quality natural Healing Gemstones

We have designed this bracelet with two rows of eight Gemstones and Chinese Knot Spacers each piece is approx 18 cm in diameter


Number 8 - The number

 

8

 

is believed to be the luckiest number in China because '8' is associated with wealth. 'Eight' (八) in Chinese is pronounced ba and sounds similar to fa (发, traditional character: 發) as in facai (发财), meaning 'well-off' or 'becoming rich in a short time'

Chinese Knot - 

Ruyi literally means 'as one wishes' in Chinese. Chinese Knots also act as good-luck charms 

DESCRIPTION  

Green Jade is aligned with the vibrational level of the Heart Chakra and can help if the heart becomes stuck. "Jade has a vibration that can shift blockages and provides cleansing to promote a healthy flow of energy through the heart centre,

In addition to bringing its own wonderful energies into your life and the space around you, jade crystal has the ability to transform negative energies into positive ones that promote joyfulness and love. Calming and harmonious, the stone also can help you heal from emotional and physical injuries and illness.

It also represents balance and harmony: If you're feeling off-kilter in any aspect of your life, crystal experts believe Jade can bring you back to centre. It's a perfect stone for grounding, balancing the body, and calming the nervous system. 
Chakra's - Heart
Birthstone: August
DETAILS
Type: Bracelet 
Gemstone: Natural Jade Gemstone 10 mm
Fits Wrist Size: 18 cm 
Other; Gold Tone Chinese Knot Spacers (LEAD and NICKEL Free)
Stretch:

 

Moderate
Presented in Velvet Pouch
NOTE: These bracelets are handmade to order and as such may require 2 -3 days to prepare.