Ladies Smokey Quartz and Lava Stone Aroma Diffuser Bracelet - the stone of endurance
---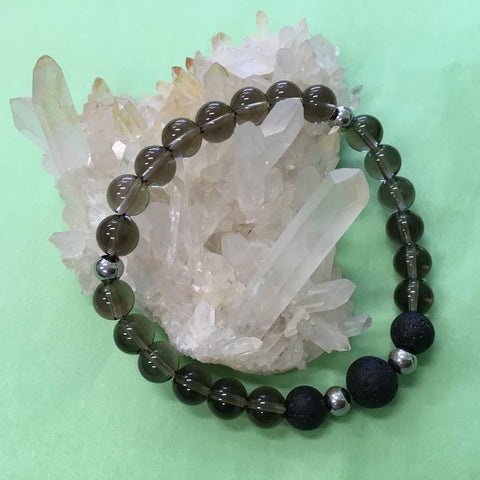 or make 4 interest-free payments of $8.75 AUD fortnightly with
More info
Ladies High Quality "Smokey Quartz and Lava" Essential Oil Aroma Lava Diffuser Bracelet
Designed and Handcrafted by us in-store using high quality Healing Gemstones and Lava Beads. Each piece is approx 19 - 20 cm  

We can customise this piece prior to shipping should you require a smaller or larger bracelet, just measure your wrist and let is know the details in the comments section during checkout.

DESCRIPTION  
Lava beads begin their journey to your jewellery as molten rock beneath an active volcano. At over 1,000 degrees Celsius the molten rock begins to melt and finally erupts out of the volcano. Once the lava meets the cooler air it solidifies and becomes this beautiful piece of jewellery. Lava beads promote strength & fertility - driving away anger, and assisting one in the understanding of a problem while strengthening our connection to Mother Earth. 

Lava Stone -  Strength | Courage | Calming | Stress Relief | Grounding

Smokey Quartz - the stone of endurance


Smokey Quartz is one of the most unique and powerful, yet most efficient grounding stones. It rules over the root chakra and helps one to re-establish a connection to the physical world. This crystal is perfect for someone who seems to have their head stuck in the clouds or  have lost touch to the physical side of life. Just go ahead and give them a Smoky Quartz. It t will help them regain mental clarity all while repairing their cellular structure/energy body. 

Smokey Quartz was a sacred stone to the Ancient Druids and the Celts

All Quartz help improve the state of the human consciousness. However, Smokey Quartz has extra benefits due to its dark color. Some of these benefits include: centering ones energy, purges distractions from the psychic world, helps regain mental focus and awareness and aids in removing clearing away negative energy.

Dissipates emotional, mental, physical and environmental negativity.
Chakra's - Root and Solar Plexus

Crystal Birthstone: Scorpio and Capricorn
DETAILS

Type: Lava Bracelet - Add a few drops of oil directly to the porous lava stone and aroma lasts for days!
Diffusing Method: Lava Stone 8mm and 10mm  
Gemstone: Genuine Round Smokey Quartz Gemstones 8 mm
Fits Wrist Size: 20 cm 
Presented in Velvet Pouch
Stretch: Moderate
Can be customised - If you require a larger or smaller size bracelet, please leave us a note and we can adjust prior to shipping
NOTE: These bracelets are handmade to order and as such may require 2 -3 days to prepare. This bracelet is available with or without Lava Stone.
Don't see what you are looking for, we can customise a piece for you


Add a few drops of your favourite essential oil to the porous lava stones on the bracelet.
The aroma will last for about 3-4 days on the Lava Stone
You can top up at anytime or wait until the current essential oil has diminished and add another. You can also add up to three separate oils on the Lava Stones to create your own unique blend.