Lemon Essential Oil 10ml - ECO Aroma
---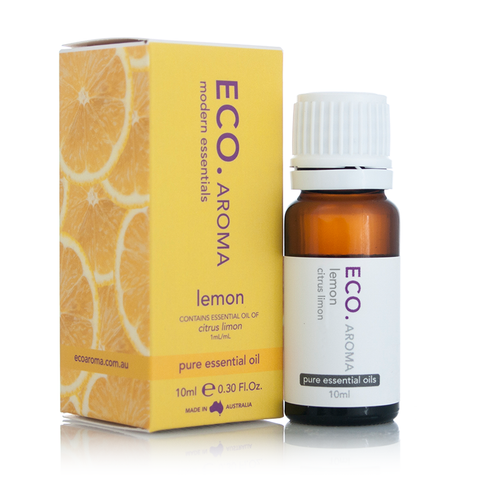 or make 4 interest-free payments of $3.75 AUD fortnightly with
More info

Product Description
citrus limonum (lemon) oil
Lemon Essential Oil is light and refreshing, with many uplifting benefits for the mind, body and soul.
Benefits and uses of Lemon Essential Oil:
Skin & Hair: Lemon is effective in treating oily skin and its antiseptic properties make it treating cuts and wounds, clearing acne, cleaning greasy skin and hair, as well as removing dead skin cells, easing painful cold sores, mouth ulcers, herpes and insect bites. 
Body: Great for minor wound healing. Improves digestive function and is beneficial to the circulatory system aiding with blood flow, reducing blood pressure and helping with nosebleeds. Helps bring down fever, helps relieve throat infections, bronchitis, asthma and flu. Boosts the immune system and cleanses the body, improves the functions of and it is helping with constipation, dyspepsia and cellulite. It soothes and relieves headaches and migraines and is helpful for rheumatism and arthritis.
Mind & Emotions: Lemon is great for mental alertness, it clears the mind and aids in decision making. Its stimulating on the mind and its cooling and refreshing on the body as a whole. Lemon lifts spirits and is useful in times of mental fatigue making it great study.
Blends with: Bergamot, Eucalyptus, Fennel, Frankincense, Ginger, Juniper, Lavender, Neroli, Rose, Rosemary, Sandalwood, Ylang ylang.
How to use your essential oil:
Burner: add a few drops to your electric or tea light candle vaporiser
Massage or body oil: add a few drops to a carrier oil to use for massage, a customized body oil, or to treat ailments
Bath: add 3-5 drops to a full bath before immersing yourself in the warm water
Shower: sprinkle 1-2 drops on your shower floor and let the scent wash over you
Skin: essential oils can be applied directly to skin but please do a patch test as a precaution (a drop applied on the inner elbow just below the crease, or behind the ear) and look for any adverse respond before applying directly to the face or body
Never apply essential oil on broken, raw or sensitive skin, and do not apply directly on skin during pregnancy.