Lepidolite (Small) Tumbled Stone - Balance, Awareness and Transition - Crystal Healing
---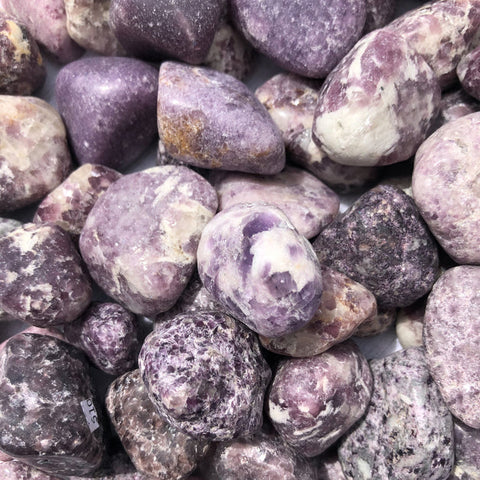 or make 4 interest-free payments of $1.50 AUD fortnightly with
More info
Known as the stone of transition, Lepidolite helps shift and restructure old energy patterns and brings light and hope to a situation. Carry Lepidolite with you when you need to balance your emotions with your intellect.


The calming nature of Lepidolite can help you to enter a deep meditative state, and many find that it helps them achieve a good, deep sleep at night.
Lepidolite is helpful for releasing emotional and energetic blockages, and is said to help those with ADD, OCD, or Bipolar Disorder. 

1 x Lepidolite Tumbled Stone with Organza Pouch (information card not available at this time)

More information on Lepidolite


EMOTIONAL
♥ Anxiety
♥ 
Bipolar Disorder
♥ 
Eases Depression
♥ 
Emotional Balance
♥ 
Emotional Blockages
♥ 
Emotional Trauma
♥ 
Mood Swings
♥ 
Panic Attacks
♥ 
PTSD
♥ 
Rage Diffusing or Release
♥ 
Reducing Stress or Tension  
PHYSICAL:
♥ 
ADD/ADHD
♥ 
Addictions
♥ 
Allergies
♥ 
Alzheimer's Disease
♥ 
Eating Disorders
♥ 
Epilepsy
♥ 
Insomnia
♥ 
Menopause
♥ 
Muscular/Skeletal
♥ 
Night Terrors and Nightmares
♥ 
Panic Attacks
♥ 
Schizophrenia
♥ S
tomach Problems/Constipation/Diarrhoea 
Affirmation: I am emotionally balanced and filled with inner peace.

Chakras
- Third Eye, Crown and Solar Plexus
Birthstone
- February 
Zodiac
- Libra
Whilst we always endeavour to describe the size and quality of our Crystals, Tumbled Stones and other Gemstone Products as accurately as we can, please understand because Crystals and Gemstones are natural minerals they each have their own beautiful and unique patterns and formations; therefore no two crystals or gemstones will ever be the same and each piece we sell is unique in composition.

Please be note: as natural objects their appearances and size may vary from the images shown on our website and they may also have tiny fissures and pits, please bear this in mind when ordering.