Little Sniffles Essential Oil Blend 10ml - Children's Blend - ECO Aroma
---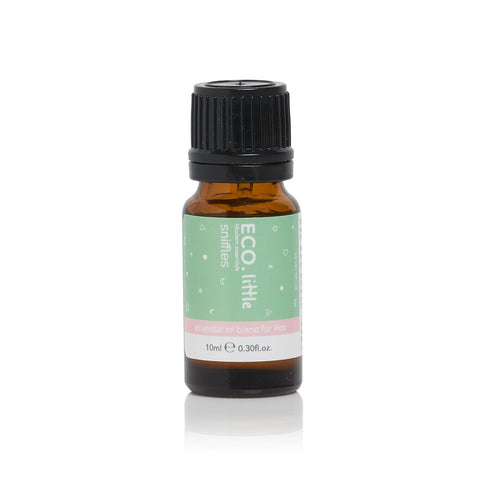 or make 4 interest-free payments of $3.50 AUD fortnightly with
More info
Can't stop a runny nose? This fresh and clearing blend can provide temporary congestion relief when the common cold or seasonal allergies strike. The clearing properties of Fir Needle and Rosalina, combined with the antihistamine and anti-inflammatory properties of Lavender and German Chamomile make this blend a saviour during the change of season. 

Ingredients
Abies Sibrica (Siberian Fir) Needle Oil, Melaleuca Ericifolia (Rosalina) Leaf Oil, Lavandula Augustifolia (Lavender) Oil, Matricaria Recutita (German Chamomile) Flower Oil.

Key benefits:

- May help relieve congestion
- Anti-inflammatory and antiseptic
- Can help clear the lungs for sinuses

How to Use:
Diffuser: Add 5 drops to the water chamber of your diffuser and diffuse for up to 30min.

Topically: Use a 1% dilution. Mix 1 drop with 5ml of carrier oil and massage.

Bath: Mix 2-3 drops with a carrier oil and add to the bath.

FAQ

Can I use this blend for my child under 2 years old?
Essential oils are considered too strong for use on babies' skin (0-24 months) and can be overwhelming on their developing systems. However we can still use essential oils in a diffuser.

Is this safe for use during pregnancy?
Use this oil with care. Avoid using essential oils during the first trimester unless you are under the supervision of a qualified practitioner. See our full list of pregnancy safe oils in our FAQs.

Is this safe to use around pets?
This blend is not recommended for use around pets. See our full list of pet safe oils in our FAQs.

Can I ingest this oil?
This blend has been developed for inhalation and topical application only. This blend should not be taken internally.

Safety Warning
For occasional use only. Avoid contact with eyes and mucous membranes. Do not use on the face or near the nose or mouth. Choking hazard - this product contains small parts and is not suitable for children under 3 years of age to handle without adult supervision.


NOTE This product comes unboxed