Manifest Protection Tumbled Stone Crystal Healing Set with Velvet Pouch - Bloodstone, Hematite, Red Jasper and Tiger Eye
---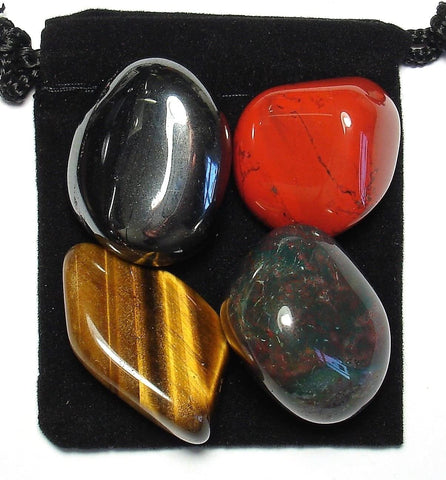 or make 4 interest-free payments of $3.50 AUD fortnightly with
More info
The main benefit of our Specific Crystal Healing Stone Sets is to choose a set of stones that resonates with the specific intention of your desire. 

For example; choose a calming stone for letting go of stress; or an energising stone to promote action.  narrow in on your ideal focus or intention.


Each of our Specific Healing Sets contain four quality polished tumbled gemstones. 


This unique combination of 4 genuine gemstone crystals has been designed with the intention of manifesting protection. 


Our tumbled crystals/gemstones in the sets can measure between 0.75 mm, 20 mm and 25 mm 


Each set comes presented in Velvet Black Pouch


Crystal programming and cleansing instructions are included.
Whilst we always endeavour to describe the size and quality of our Crystal, Tumbled Stones and other Gemstone Products as accurately as we can, please understand because Crystals and Gemstones are natural minerals they each have their own beautiful and unique patterns and formations; therefore no two crystals or gemstones will ever be the same and each piece we sell is unique in composition.
Please be note:
 as natural objects their appearances and size may vary from the images shown on our website and they may also have tiny fissures and pits, please bear this in mind when ordering.