Mens Black Onyx and Lava Stone Aromatherapy Diffuser Bracelet - Protection, Release and Calming - Gift Idea
---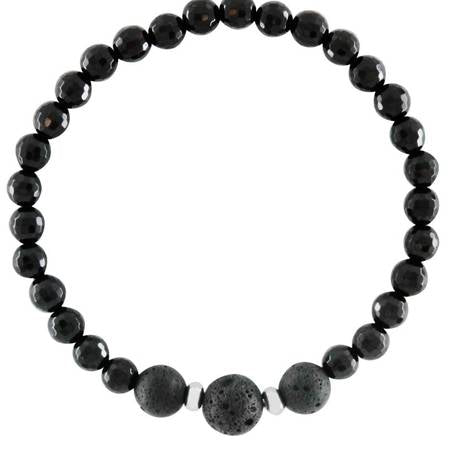 or make 4 interest-free payments of $11.00 AUD fortnightly with
More info
Our Gemstone/Crystal and Lava Bracelets are handcrafted by CALA Designs using only genuine gemstones sourced from around the Globe. They are adding new designs each day to their collection.

Lava Stone -  Strength | Courage | Calming | Grounding  

Lava beads begin their journey to your jewellery as molten rock beneath an active volcano. At over 1,000 degrees Celsius the molten rock begins to melt and finally erupts out of the volcano. Once the lava meets the cooler air it solidifies and becomes this beautiful piece of jewellery. 
Black Onyx
 - the warrier stone
Black Onyx a powerful warrior stone, the Onyx crystal meaning helps stomp out negative thought patterns stemming from the most debilitating and toxic emotion of them all fear. Include Onyx in your gem collection and always know that whatever happens, this powerful root chakra stone always has your back.

A powerful protection stone, Black Onyx absorbs and transforms negative energy, and helps to prevent the drain of personal energy. Black Onyx aids the development of emotional and physical strength and stamina, especially when support is needed during times of stress, confusion or grief.

Black Onyx is said to be associated with the planet Saturn, and it is the birthstone for Leo, the zodiac sign. It is a soothing stone, and is good for wearing, especially during times of emotional turmoil. It is known to help release negativity, as well as to guard the wearer from the 'evil eye'.

Chakra's - Root Chakra 
DETAILS

Type: Lava Bracelet - Add a few drops of oil directly to the porous lava stone and aroma lasts for days!
Diffusing Method: Lava Stone 6 and 8 mm  
Gemstone: Genuine Black Onyx 6 mm with Stainless Steel Spacers (

Hypoallergenic and Tarnish Resistant)

Fits Wrist Size: 20-22 cm 
Presented in Velvet Pouch
Stretch: Moderate
Add a few drops of your favourite essential oil to the porous lava rock on the bracelet.
The aroma will stay on the stones for 2-3 days.
You may add more essential oil at anytime you want for topical and aromatic benefits.