Mens Sardonyx and Lava Stone Aromatherapy Diffuser Bracelet - Protection and Confidence
---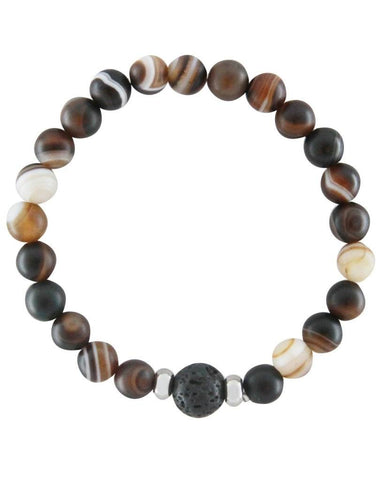 or make 4 interest-free payments of $10.25 AUD fortnightly with
More info
Our Gemstone/Crystal and Lava Bracelets are handcrafted by CALA Designs using only genuine gemstones sourced from around the Globe. They are adding new designs each day to their collection.

Lava Stone -  Strength | Courage | Calming | Stress Relief | Grounding  

Lava beads begin their journey to your jewellery as molten rock beneath an active volcano. At over 1,000 degrees Celsius the molten rock begins to melt and finally erupts out of the volcano. Once the lava meets the cooler air it solidifies and becomes this beautiful piece of jewellery. Lava beads promote strength & fertility - driving away anger, and assisting one in the understanding of a problem while strengthening our connection to Mother Earth.
Sardonyx
 - the stone of willpower and courage
Sardonyx is a highly protective stone and embodies a vibration of happiness, optimism and confidence. This stone is said to boost self-control. It is believed to encourage motivation, willpower and discipline. This gemstone helps you search for meanful existance, promotes intergrity and virtuous conduct.
Chakra's - Root Chakra 
DETAILS

Type: Lava Bracelet - Add a few drops of oil directly to the porous lava stone and aroma lasts for days!
Diffusing Method: Lava Stone 6 and 8 mm  
Gemstone: Genuine Sardonyx  6 mm with Stainless Steel Spacers (

Hypoallergenic and Tarnish Resistant)

Fits Wrist Size: 20-22 cm 
Presented in Velvet Pouch
Stretch: Moderate
Add a few drops of your favourite essential oil to the porous lava rock on the bracelet.
The aroma will stay on the stones for 2-3 days.
You may add more essential oil at anytime you want for topical and aromatic benefits.