NEW Fleur de Lis Design Aromatherapy Essential Oil Diffuser Necklace - Silver 30mm - Mothers Day Gift Idea
---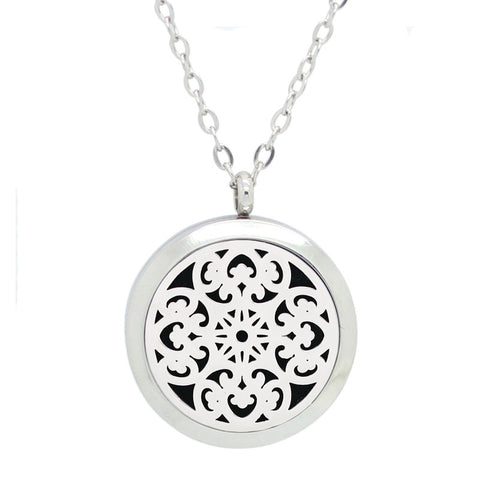 or make 4 interest-free payments of $9.00 AUD fortnightly with
More info

High Quality 316L Surgical Grade Stainless Steel  NEW 'Fluer de Lis' Design Aromatehrapy Essential Oil Duffuser Necklace


Fleur De Lis Spiritual Meaning
– The term "Fleur De Lis" means "Flower Of The Lily". The most popular Fleur De Lis Spiritual Meaning is The Holy Trinity.

The fleur-de-lis has been used by French Royalty
and throughout history to represent Catholic Saints of France. Particularly, the Virgin Mary and St Joseph are depicted with a lily.


The Fleur  de Lis is the bearer of:
A promise that something is going to change and that it has the ability to express itself to Humanity.
A promise of new alliances, between Heaven and Human Earth, to connect dimensions.
A promise of the good news to come, as it is the vehicle to LIGHT.
Get ready to welcome this New Era, the Era where Energy prevails!
DETAILS

❉Type: Diffuser Locket -Add a few drops of oil inside the Diffuser Locket and aroma lasts for days! 
❉Diffusing Method: Organic Bamboo/Hemp Fabric - 5 discs included 
❉Locket Metal: 316L Surgical Grade Stainless Steel  
❉Locket Size: 30mm  NEW Sunflower Design
❉Other Features: Hypo-allergenic and Tarnish resistant
❉Small Gift Packaging included
Open the locket.
Add 2-3 drops of essential oil/aromatherapy to the Bamboo/Hemp Fabric insert
Close the locket with our secure magnetic clasp.
The aroma will release from the open faced front of the pendant for up to 5 days.
Bamboo/Hemp Pads can be washed in warm soapy water and used several times.