Ocean Jasper (MEDIUM) Tumbled Stone - Happiness, Healing and Protecting - Crystal Healing
---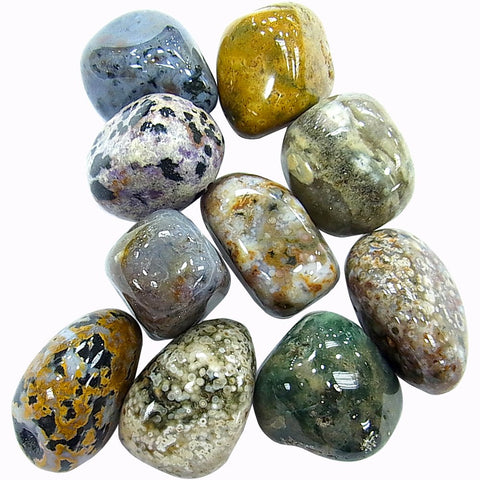 or make 4 interest-free payments of $1.00 AUD fortnightly with
More info
Ocean Jasper
is calming, gentle and nurturing. It encourages healing in a very slow and gentle way. 
Ocean Jasper
helps brings issues to the surface, but in a gentle way so that you can properly acknowledge and process it. 
Ocean Jasper
encourages service for the highest good and empathy towards both yourself and others around you. It is a good crystal to work with to release blocked energy in a soft manner. 
Ocean Jasper
helps to be accepting of change and helps go with the flow of life.

Ocean Jasper
promotes cleansing at the cellular level.
Ocean Jasper
is said to help with circular breathing and help with inner-ear imbalances.

Ocean Jasper
is said to help remove toxins that could normally lead to body odor and also to help with circulation.
Ocean Jasper
brings an energy that lifts the mood inside and around us and that encourages joy towards our daily lives.
1 x Ocean Jasper in an Organza Pouch with information card.

♥ ♥ ♥ ♥ ♥ ♥ 

Primary Chakras: Solar Plexus and Heart
Zodiac
-
 Capricorn, Cancer and Pisces

Element:
 Water and Earth
Affirmation:
I am stress free and confident.


♥ ♥ ♥ ♥ ♥ ♥
Whilst we always endeavour to describe the size and quality of our Crystal, Tumbled Stones and other Gemstone Products as accurately as we can, please understand because Crystals and Gemstones are natural minerals they each have their own beautiful and unique patterns and formations; therefore no two crystals or gemstones will ever be the same and each piece we sell is unique in composition.

Crystals have inclusions, which appear naturally in gemstones. Sometimes they can be accidentally mistaken as cracks, but they're actually minerals that have been trapped within the crystal as it has grown. Inclusions are perfectly natural and make each individual crystal unique. They're part of the crystal's natural beauty and history.

Please bear the above  in mind when ordering.