Opalite Buddha 75mm - Dreams, Communication and Transition
---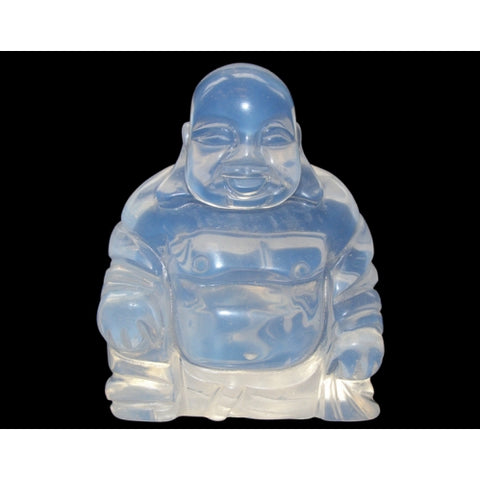 or make 4 interest-free payments of $17.00 AUD fortnightly with
More info
Buddha's have long been used to bring good luck and confidence. They remind their users to stay in touch with their divine self and treat others with respect and love.

To understand the meaning of the word 
Buddha
, you have to understand the meaning of enlightenment. 
Buddha
 translates into "enlightened one."
DREAMS 
help dreams become a reality, Stabilises mood swings and help calms emotions, Open communication with the spirit world.

Opalite Buddha 75mm

More information on Opalite


♥ Psychic abilities
♥ Spirituality
♥ Transition

Opalite is a man-made synthetic glass, mistakenly known by a number of different names, including - Tiffany Stone, Opalised Fluorite and Purple Opal.


Chakras
- Third Eye
Typical colours
 -
clear or milky, and iridescent.
Opalite is subtle yet highly energetic.  It is ideal for meditation. 

Opalite improves communication on all levels, especially the spiritual. It removes energy blockages of the chakras and meridians. 

Crystals and Gemstones are natural minerals each with their own beautiful and unique patterns and formations; therefore no two crystals or gemstones are ever the same and each piece we sell  is unique in composition.

Please be note, as natural objects their appearances and size can vary from the images shown on our website and they may contain tiny fissures and pits.