Opalite Double Point Necklace - Free Chain - Dreams • Communication • Transition - Crystal Healing
---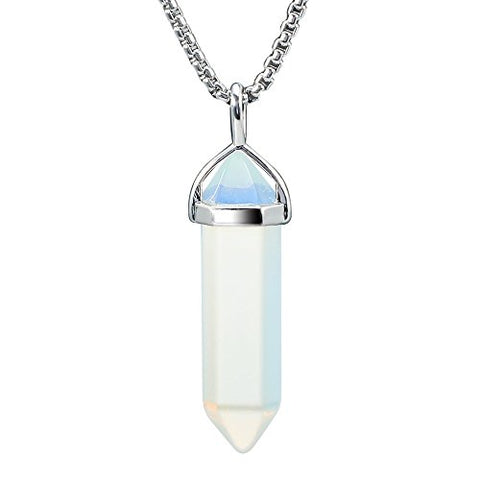 or make 4 interest-free payments of $6.75 AUD fortnightly with
More info
DREAMS help dreams become a reality, Stabilises mood swings and help calms emotions, Open communication with the spirit world

Opalite

 is a man-made synthetic glass, mistakenly known by a number of different names, including - Tiffany Stone, Opalised Fluorite and Purple Opal.




Double Point Necklace Dimensions

Point 30mm
Total Height 40mm
Width approx 10mm
Chain 50cm (Stainless Steel)
Colour Indigo Blue, Dark Blue - White
Can also be used as a Pendulum
Presented in Black Velvet Pouch
♥ Psychic abilities
♥ Spirituality
♥ Transition


Chakras
- Third Eye
Typical colours
 -
clear or milky, and iridescent.
Opalite is subtle yet highly energetic.  It is ideal for meditation. 

Opalite improves communication on all levels, especially the spiritual. It removes energy blockages of the chakras and meridians. 

Emotionally, Opalite helps by assisting during transitions of all kinds.  It engenders persistence and gives us strength in verbalising our hidden feelings.  It can also help us to be successful in business.
Opalite is for all-round healing.  It aids sexual prowess, enhancing sexual experience. 

Opalite stabilises mood swings and helps in overcoming fatigue.  It purifies the blood and kidneys.
Crystals and Gemstones are unique and each beautiful in pattern, please be aware that our images are for information purposes only as natural product their appearance and colour may vary from the images shown on the website