Pink Opal (LARGE) Tumbled Stone -Renewal, Acceptance and Love - Crystal Healing
---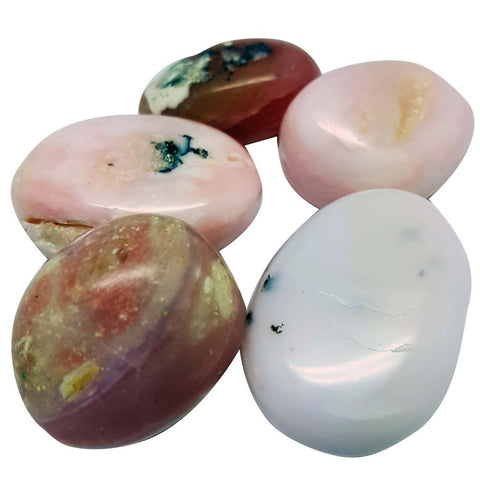 or make 4 interest-free payments of $3.50 AUD fortnightly with
More info
Pink Opal clears and calms the heart and brings a sense of peace and tranquillity to your aura. It is excellent for children who have difficulty sleeping or tend to have nightmares.

Pink Opal is the stone of relationships and assists with the renewal of the sacred relationship with All That Is.

Pink Opal directly soothes the heart and can be useful in instances of erratic or irregular heartbeat. It supports the lungs and the use of oxygen by the body.

Pink Opal can help those who have excessive fear, worry or anxiousness. It is useful in dissipating stress and allowing you to become more emotionally centred and calm.

Pink Opal brings peace and release to your heart, allowing you to discharge past trauma, tension and stress. It can be used to keep your connection to the angelic realm open and clear

1 x Pink Opal in an Organza Pouch with information card.

 ♥ ♥ ♥ ♥ ♥ ♥ 

Primary Chakras: Heart
Zodiac
-
 Virgo, Libra, Sagittarius, Cancer, Scorpio and Pisces

Element:
Water and Earth
Affirmation:
I am ready to embrace new love.


♥ ♥ ♥ ♥ ♥ ♥
Whilst we always endeavour to describe the size and quality of our Crystal, Tumbled Stones and other Gemstone Products as accurately as we can, please understand because Crystals and Gemstones are natural minerals they each have their own beautiful and unique patterns and formations; therefore no two crystals or gemstones will ever be the same and each piece we sell is unique in composition.

Crystals have inclusions, which appear naturally in gemstones. Sometimes they can be accidentally mistaken as cracks, but they're actually minerals that have been trapped within the crystal as it has grown. Inclusions are perfectly natural and make each individual crystal unique. They're part of the crystal's natural beauty and history.

Please bear the above  in mind when ordering.